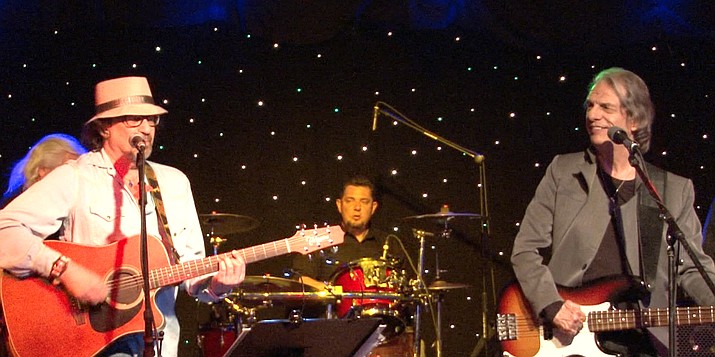 ---
---
Sunday, July 7 from 6 to 9 p.m. the Green Light Dance Band performs in concert at Bella Vita Ristorante in West Sedona, on the outside patio stage.
This band of Baby Boomer musicians plays with heart, gusto and virtuosity. They are a vocal group, a dance band and jam monsters.
On lead guitar is Sedona talent Robin Miller. He brings to the Green Light table his incredible guitar skills and voice to the harmonies. His lead solos take you there and bring you back.
On drums for this gig will be Dan Turner. Drummer Dan's musical versatility spans 40 years of hard rock, blues, funk, country, R&B and jazz. He is a founding member of The Fabulous Sizzle Kings, The Delta 88s, Manos de Fuego, Sunhouse and The Bottom Line Band. 
His bands have played venues throughout the Southwest and opened for Koko Taylor, Pancho Sanchez, The Blasters, Taj Mahal, Stevie Wonder, Robben Ford and Chris Cain.
Drummer Dan adds the solidness and thump good music needs to get people up and dancing. His bass foot and the bass guitar become one and the thick beats emerge. People get dancing.
Then there is Uncle Marc Wolin on keys and Trombone. What's to say about him other than he was an original member of the "Jesus Christ Super Star" cast and traveled across the country touring. His harmonies tie together the other singers and when he whips out his big trombone, everybody get out of his way.
Songwriters Tommy Acosta and Chicky Brooklyn helm the band, with Chicky on lead vocals and rhythm guitar and Tommy also on lead vocals, playing bass.
Both composed and arranged the original material the band plays. They have been playing together for more than ten years and share a mutual connection, with Chicky being born and raised in Brooklyn, New York and Tommy coming from the Bronx, 
They met here in Arizona and began writing new music together.
"For Tommy and I these musicians have been a God-send to us," Chicky said of the Green Light band roster. "It's so humbling and such a joy for us to play with musicians the caliber of Robin Miller, Dan Turner and Uncle Marc."
Bella Vita Ristorante is located at 6701 West State Route 89A. Visit www.bellavitasedona.com or call 928-282-4540