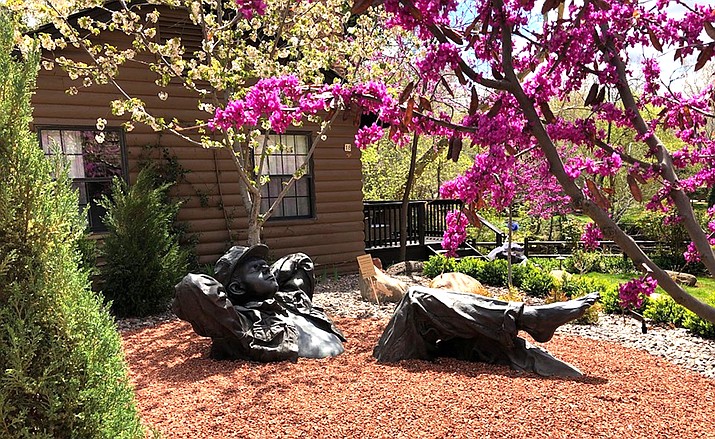 ---
---
Original artwork holds a living presence. It has the power to illuminate, to make us feel, to take us to a place beyond ourselves. In diverse mediums it opens hearts and minds and our response to it is visceral and personal.
Underneath this response lies the unspoken connection between the viewer and the artist that created the piece. Each work of art boldly distills the unique inner vision of the artist that created it innately imbuing it with this "living presence."
In July, the award-winning Goldenstein Gallery celebrates artistic freedom and this connection between artist, artwork and collector with Independent Vision.
Part of their acclaimed Summer Art Series that is filled with lively events and delightful opportunities to connect with art and artists, this month the celebrated gallery highlights the beautiful outdoor sculpture throughout Sedona as well as the art that brings nature inside to us including paintings and sculpture.
In addition to an opening reception at Goldenstein Gallery for Independent Vision on Friday, July 5 from 5-8 pm, the public is invited to enjoy special art tours in July at Waddell Sculpture Ranch and L'Auberge De Sedona and more.
Allegorical Art is a term sculptor James Muir uses to describe his art as being filled with symbolic meaning. Bridging the centuries from his historical military subjects to today's social, political and spiritual commentary, his sculptures speak eloquently of Duty, Honor, Courage, and Justice, but above all, Truth and the ultimate triumph of the Human Spirit. His pieces are in both public and private collections internationally.
"To bring light into the darkness, such is the duty of the artist," says Muir "The longest journey is the journey within." Muir believes we are all given a path of service to humanity and considers his talents as his own way for him to contribute in a meaningful way.

His breathtaking monumental "Christ of the Holy Cross," commissioned for the 60th Anniversary of the Chapel of the Holy Cross, was installed at the altar a year ago. People from all corners of the globe have found themselves moved to tears as they stand in from of this iconic work of art.
Each element included in this sacred piece holds a special spiritual symbolism celebrating the Christ, his life and work. The maquette sculpture of Christ of the Holy Cross is now available to see and collect at Goldenstein Gallery.
David Phelps is an award-winning, internationally collected sculptor exploring the deep connection between humanity and the notion of place and landscape.
His strikingly alive images reflect the vibrancy of expansive spaces, and graciously challenge viewers on a multitude of levels, evoking introspection, contemplation and meaningful meditation.
Phelps is known for monumental contemporary figurative artwork in bronze, cast concrete and fabricated steel. He also creates small and medium sized sculptures in limited bronze editions. One highly visible public art commission is the Desert Wildlife series permanently installed in Gate D of the McCarran International Airport in Las Vegas, Nevada.
Many of the sculptures created by Phelps appear to be partly submerged or emerging from the ground. This somewhat surreal aspect of the image invokes Phelps' early years on the Roberts Island farm in the California delta. Phelps' art is represented in private and public collections around the world.
Locals and visitors alike are captivated by Reagan Word's stunning piece "The Open Gate" which stands in the Roundabout at Schnebly Hill Road.  For years he was known for his exquisite 3-D renderings for architects and notes that this work ultimately taught him to push the boundaries of his imagination.
Working in multiple mediums, he says of his work "My calling is to make visible ideas that inspire and motivate others to look at the beauty of not only this creation but venture beyond and imagine what is yet to be."

Join the opening reception for Independent Vision in Friday, July 5, from 5-8 pm at Goldenstein Gallery.

Please visitGoldensteinArt.com for a complete listing and information on Artists, Artwork, Exhibits, Waddell Sculpture Ranch and L'Auberge Art Tours and Artists in Residence.
Goldenstein Gallery's address is 150 State Route 179, at the corner of SR179 and 89A.