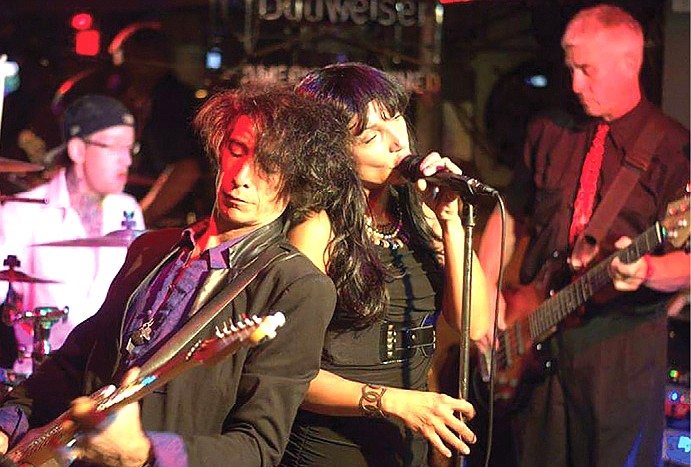 ---
---
Saturday, June 8, Main Stage welcomes Thunderhorse from Northeastern Arizona. Thunderhorse is a four-piece ensemble that plays a wide variety of classic rock and country as well as pop and dance favorites.

With influences as varied as Johnny Cash, Journey, Taylor Swift and Pat Benatar everyone will find something to dance to.
This will only be the second time Thunderhorse has played at Main Stage. Come out and see what all the talk is about. Show starts at 9 p.m. and there is no cover charge. 21-plus.
Friday, June 7, Main Stage presents a "Throwback Celebration" with Cottonwood's golden boy, DJ ill.Ego, Clarkdale's own DJ Jes and DJ Bear Cole from the pines of Northern Arizona in Flagstaff.

Starting at 9 p.m. until the doors close at 2 a.m., these three spin masters will be throwing down all kinds of tracks from the 70's, 80's, 90's and 00's. Come out and celebrate the summer on the dancefloor with your friends. The boys start playing at 9 p.m. and there is no cover charge. 21-plus.
Main Stage has a series of nightly events the remaining nights of the week as well. Mondays feature Latin dance classes with Dana De Luz at 6:30 p.m. then karaoke with hostess Christa Cave at 8 p.m.
Tuesdays are swing dance class with Dana De Luz at 6:30 p.m. and then karaoke with host, Braiden Campbell at 8 p.m. Wednesdays are "This Ain't Your Grandma's Bingo" with hostesses, Penny Smith and Rebecca Riffel.
Attendees play for cash and prizes starting at 7 p.m. Thursday nights starting at 7:30 p.m. is Pub Trivia with Brett and Candy.
Every last Thursday of the month, Pub Trivia is replaced by Beer School starting at 7 p.m.
Main Stage is located at 1 S. Main St. in Cottonwood and is open Monday through Saturday 11 a.m. to close and closed on Sundays.
All events are free to the public unless otherwise noted.