Casey Rooney to retire from the city of Cottonwood after 12 years of service
Cottonwood Economic Development Director turned in his resignation Friday

Originally Published: March 8, 2019 1:41 p.m.
Updated as of Friday, March 8, 2019 10:44 PM
COTTONWOOD -- Cottonwood's very first economic development director is stepping down after 12 years with the city.
Casey Rooney will be retiring from his position, effective April 1.
"It's been 40 years, 12 with the city of Cottonwood, and it's time for change," Rooney told the Verde Independent Thursday.
Rooney became the city's first economic development director in 2006 after a 30-year career in business and industry, according to a city news release.
"I have had a long, enjoyable career in public and private sectors and look forward to spending more time with family and friends," he said in the release. "It has been a great experience and my thanks and appreciation go to the business community whom I served."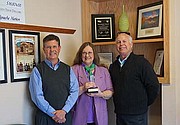 Former city manager Doug Bartosh said Rooney was "hands-on" in his role as economic development director.
"He has great contacts around the state," Bartosh said. "He was instrumental with getting a USDA grant for $650,000 for new business startups."

In an interview Friday, Rooney said he was first hired by late city manager Brian Mickelsen 12 years ago. Mickelsen died unexpectedly during a run in 2007. Former city manager Doug Bartosh succeeded Mickelsen and quickly began partnering with Rooney in revitalizing Old Town Cottonwood.
Rooney calls the revitalization of Old Town a "legacy project."
"I was given the authority to make it better. Doug (Bartosh) was a big player in that whole thing," Rooney said. "We wanted to make it better."

But Rooney said no one person can take all the credit.
"The wine industry is what drove all the development in Old Town," he said.
Rooney also credits business owners like Eric Jurisin, owner of Nic's Italian Steak & Crab House and several other businesses in Old Town, for investing in the community.
Rooney noted a lot of other "homegrown" smaller business stuck their necks in as well.
"A lot of people fell in line," he said.

Mike Kilpatrick, owner of Verde Valley Olive Oil Traders in Old Town said his partnership with Rooney began when he first opened up his business ten years ago. At the time, many of the buildings were empty and "rent was cheap."
"From the moment I met him and the moment I started putting my plan together, I truly considered Casey a partner," he said. "He was always happy to bring people to our store and our success story and it just has been a true partnership."
Rooney has much to be proud of, said Cottonwood Mayor Tim Elinski. This includes "being integral to our branding as the Heart of Arizona Wine Country, developing a revolving loan program administered through VVREO to help fund local businesses and helping put Cottonwood on the map."
Cottonwood City Manager Ron Corbin said the city is thankful for Rooney's contributions to Cottonwood's success.
Corbin said he will discuss next steps in filling Rooney's position Monday with his staff.
Camp Verde Economic Development Director Steve Ayers said Rooney has been a mentor to him as well as a friend and colleague.

"... (He) understood the notion that real economic growth is not something that happens within the walls of one community, but is instead a regional challenge that requires regional cooperation. As an economic developer in a community that lived in Cottonwood's shadow, that is the most I could have asked for," Ayers said.
Next economic development director
Jurisin said the next economic director needs to be someone who is focused on bringing in tourism as well as diversity into the community.
Kilpatrick said the next person to fill Rooney's shoes should be someone who "thinks outside the box" and explores businesses that serve both locals and tourists.
"I would expect that the new Director of Economic Development would be someone who has a proven track record of bringing small commercial businesses, light manufacturing and retail businesses to a small rural city such as Cottonwood," he wrote in a follow-up email. "Attracting small commercial businesses and or manufacturing would provide employment from within the community, and perhaps encourage high school and Yavapai College graduates to start their post-education working careers right here, rather than leaving for Flagstaff or Phoenix."
He also noted that the new director should have a proven record of success in bringing in unique and fun retail business to the community.

"Right now there are several empty buildings throughout the city that once were locally owned retail businesses," he said. "There is also attractively located vacant land that would be ideal for mixed-use such as a boutique hotel and retail shopping."

More like this story
SUBMIT FEEDBACK
Click Below to: