Brian Armstrong to retire from Camp Verde Marshal's Office
Mary Newton retires after 22 years in dispatch
By
Bill Helm
|
BillHelm42
Originally Published: October 29, 2019 9:56 a.m.
CAMP VERDE – With more than 30 years in law enforcement, Brian Armstrong will retire from the Camp Verde Marshal's Office in mid-January.
Marshal Corey Rowley said that Armstrong, commander at the Marshal's Office since June 2017, will be "be extremely difficult to replace."
"He has served this community and this department extremely well," Rowley said of the department's second in command. "We are hoping that he will stay with us as a reserve. His heart is in patrol, and I know he would like to come out every so often to work with the deputies."
Before Rowley arrived at CVMO in October 2018, Armstrong served 12 months as interim marshal when former Marshal Nancy Gardner was placed on administrative leave. Gardner resigned in March 2018.
Armstrong, who came to Camp Verde from Arizona Department of Transportation, "holds many responsibilities, including writing and maintaining grants," Rowley said. "I need to spread out that responsibility to have command staff focus on their areas of responsibility."
Rowley has decided that instead of finding another commander, the department will have two lieutenants. Dan Jacobs was recently promoted to patrol lieutenant. In December, the department will hold internal interviews for an administrative lieutenant position.
Commander Armstrong was not available for comment. Camp Verde Town Manager Russ Martin said that Armstrong has been "a good mentor. That's the thing that will really be missed."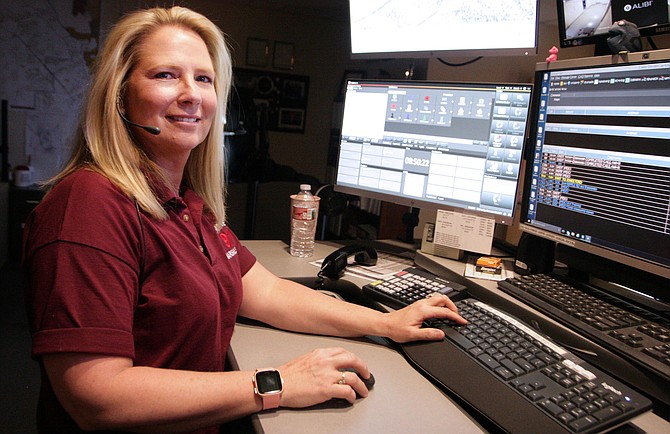 Newton retires as communications supervisor
Long time dispatcher and communications supervisor with the Camp Verde Marshal's Office, Mary Newton retired on Oct. 23. Rowley called Newton "one of the most qualified, educated, dispatchers in the state, and she will be truly missed."
Rowley said that with Newton's retirement, the Marshal's Office plans to "hire another dispatcher or two and promote within."
Newton "did a fantastic job of assembling a great team who has a positive attitude and great work ethic and dedication," Rowley said.
Newton, on her last day with the Marshal's Office, received the Unsung Hero Award for the Women in Yavapai County Law Enforcement.
"We submitted her for an award prior to her retirement announcement, and on her last day Mary received the Unsung Hero award for her work as support staff non-commissioned officer," Rowley said. "She beat out several applicants, so it was a fitting end to a great career to see her get that award."
Newton began working at the Camp Verde Marshal's Office in 1997.
More like this story
SUBMIT FEEDBACK
Click Below to: