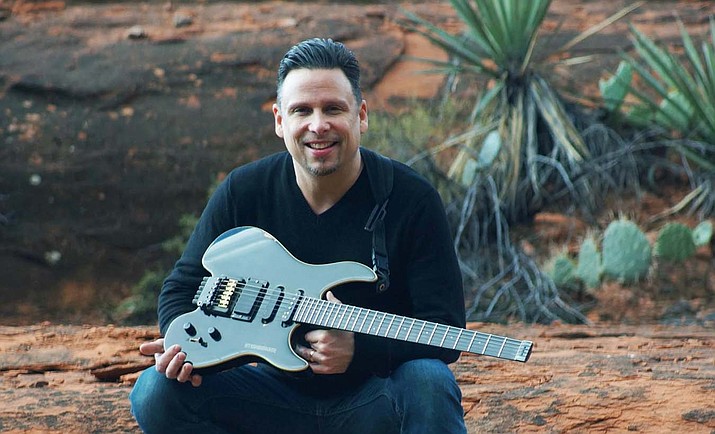 ---
---
Wine and jazz go together and this fall season Sound Bites Grill is hosting their 2nd annual Jazz it Up Sedona Festival September 27th, 28th and 29th with some great groove jazz artists coming from Los Angeles, Phoenix and New York.
Billboard artist Will Donato (saxophonist) will be the host and M.C. for the events at Sound Bites Grill this year and can be seen for free at the Sedona Winefest on Saturday around 1 p.m.
Kicking off the festival Friday Night Sound Bites repeats the synergy of wine, jazz and fine food to benefit the Verde Valley Wine Consortium (VVWC) with the kickoff party to the Sedona Wine Fest. Wine tourism continues to grow in the Verde Valley and the VVWC has been an integral part of this amazing industry. All the fun begins at 6 p.m. Friday Night Sept 27.
The Gianes Brothers' will be performing from 7-9 p.m. for the opening party.
Their music is a blend of jazz, hip-hop and R&B that has placed them on the same stage as Charlie Wilson, Sister Sledge, Justin Timberlake and Weezer. Will and Lamar Gaines combine raw talent with years of education and experience to create a dynamic performance.
Saturday, Sept 28, 7 p.m., saxophonist Will Donato will perform. A cancer survivor who truly celebrates each day and each person he meets, Will has headlined or shared the stage as a special guest at the Blue Note in New York City, The Seabreeze Jazz Festival, The Algarve Groove International Jazz Festival in Portugal, The Rehoboth Beach Jazz Festival, Humphrey's By The Bay, The Capital Jazz Cruise, and Rick Braun's New Year's Eve.
Will has performed with some of the best known musicians of the groove/smooth jazz genre, namely Al McKay of Earth Wind and Fire, Richard Elliot, Bruce Conte of Tower of Power, Steve Reid of The Rippingtons, Brian Simpson, Steve Oliver, Gregg Karukas and Nick Colionne.
Sunday evening, Sept. 29th groove jazz guitarist JJ Sansaverino from New York will be performing at Sound Bites at 7 p.m.
JJ Sansaverino is an absolutely incredible performer. He has a "take no prisoners" performance attitude and his musical style, is a mix of R&B, smooth jazz and fusion ala Santana meets Benson. He has reached millions with his music, touring the World for the last 25 years. He has worked with the best in the business in a wide range of idioms, both live and in the studio and has appeared on hundreds of recordings.
Tickets for all three events at Sound Bites Grill are available online or by calling 928-282-2713. It is a great weekend to get out and hear some great jazz, taste some delicious wines and benefit wine education.
If You Go ...
• What: Jazz it Up Sedona
• When: Sept 27-28
• Where: Sound Bites Grill Sedona, 101 N SR 89A
• More Info: 928-282-2713