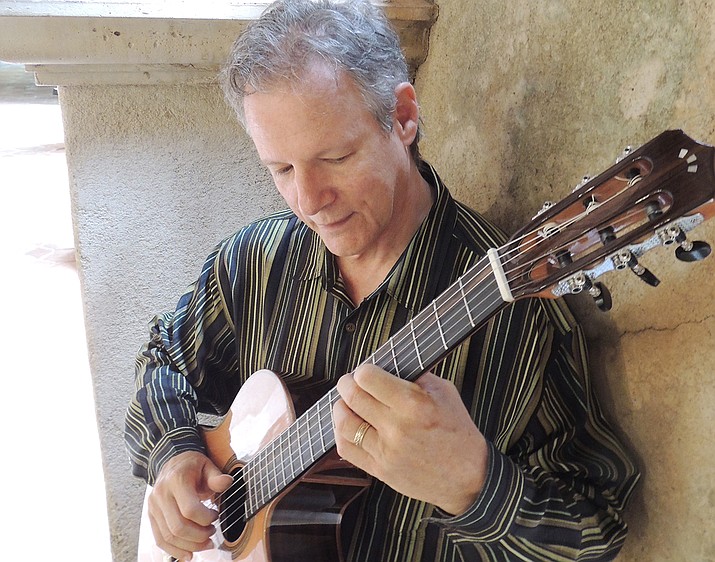 ---
---
Fingerstyle guitar master Rick Cyge shares your favorites from The Beatles at Mary D. Fisher Theatre on Saturday, Sept. 28.
Voted "Sedona's Best Musician For 2018 & 2019" in KUDOS Reader's Choice Awards, Cyge performs all the subtle harmonies and intricate counterpoint of the brilliant music of The Beatles instrumentally on solo acoustic guitar. The evening promises an uplifting and nostalgic journey into shared musical memories of the past. The concert begins at 7 p.m. and tickets are on sale now.

Patrick Schweiss, the Sedona International Film Festival's Executive Director commented, "Cyge's concert, 'Rick Picks The Beatles' fits in nicely with Sedona International Film Festival's recent summer offering, the 'Deconstructing the Beatles' documentary film series."
With a Beatles repertoire of over 60 of their songs, he comments, "The hardest part of putting this concert set together is deciding which gems to include! Re-experience The Beatles' vast and varied music from the early hit, 'I Saw Her Standing There', to their later gems including 'Lucy in the Sky with Diamonds'!"
Cyge's love affair with the acoustic guitar began about fifty years ago when he was barely old enough to handle a guitar. He first heard the likes of 'Peter, Paul & Mary' and the 'Kingston Trio' and that got his attention and fired his imagination. "I was only 13 when I discovered The Beatles and they forever changed my world. I decided, 'That's what I want to do!'"
He has established himself in Sedona as a popular and respected instrumental fingerstyle guitarist with a large variety of Baby Boomer classic songs uniquely arranged for solo guitar. Although his focus over the past twenty-five years has been instrumental music, both as a soloist and in his guitar/flute duo with his wife, Lynn Trombetta as Meadowlark, his roots run deep in folk and acoustic music from his days in the vibrant Boston music scene of the 1980s.
Cyge has 12 CDs to his credit, including many featuring his original compositions with 'Meadowlark,' and numerous projects as a sideman in the studio for various artists. In the last few years, Cyge recorded and released two self-produced solo fingerstyle guitar CDs, "GUITARtistry" and "GUITARtistry 2" featuring interpretations of "Baby Boomer Classics" with a few original compositions included. Cyge's latest recording, "Rick Picks The Beatles" is an entire CD of his own arrangements of 35 songs by The Beatles. "This was an exciting project! As I devoted my undivided attention to polishing and refining my versions of favorites, I felt like a kid in a candy store; so much extraordinary music to choose from!"
Tickets are $15 in advance and $18 at the door and are available in advance at the Sedona International Film Festival office or by calling 928-282-1177 or online at www.SedonaFilmFestival.org. The theatre and film festival office are located at 2030 W. Hwy. 89A, in West Sedona.