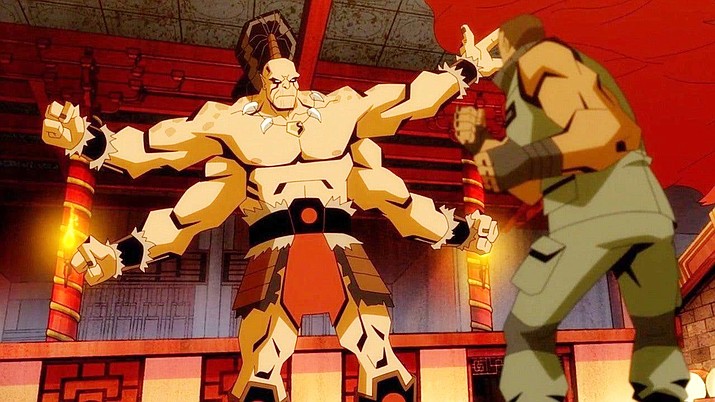 ---
---
Mortal Kombat Legends: Scorpion's Revenge
Available for streaming
DC Entertainment
Director: Ethan Spaulding
Writers: Jeremy Adams, Ed Boon
Producers: Ed Boon, Rick Morales, James Krieg, Sam Register, et al.
Cast: Joel McHale, Grey Griffin, Jennifer Carpenter, et. al.
Once in a generation, the aging warlock Shang Tsung hosts an interdimensional martial arts tournament where the victor will challenge him for the fate of their homeworld.
But deep below in the depths of the Netherrealm, the sorcerer Quan Chi makes an offer to a troubled soul who lost both his family and clan from genocide by restoring him as a specter bent on revenge, Scorpion.
Rated R for strong bloody violence throughout and some language.
The Rhythm Section
Paramount Pictures
Director: Reed Morano
Writer: Mark Burnell
Producers: Barbara Broccoli, et al.
Cast: Blake Lively, Richard Brake, Elly Curtis, et. al.
Blake Lively stars as Stephanie Patrick, an ordinary woman on a path of self-destruction after her family is tragically killed in a plane crash. When Stephanie discovers that the crash was not an accident, she enters a dark, complex world to seek revenge on those responsible and find her own redemption.
Based on the novel by Mark Burnell, from director Reed Morano ("The Handmaid's Tale") and the producers of the James Bond film series, The Rhythm Section also stars Jude Law and Sterling K. Brown.
Rated R for violence, sexual content, language throughout, and some drug use.
The Assistant
Bleecker Street Media
Director: Kitty Green
Writer: Kitty Green
Producers: P. Jennifer Dana, et. al.
Cast: Julia Garner, Matthew Macfadyen, Makenzie Leigh, Kristine Froseth, et. al.
Jane, a recent college graduate and aspiring film producer, has recently landed her dream job as a junior assistant to a powerful entertainment mogul.
Her day is much like any other assistant's: making coffee, changing the paper in the copy machine, ordering lunch, arranging travel, taking phone messages, onboarding a new hire. But as Jane follows her daily routine, she grows increasingly aware of the abuse that insidiously colors every aspect of her work day, an accumulation of degradations against which Jane decides to take a stand, only to discover the depth of the system she has entered.
Rated R for some language.
Ride Like a Girl
Available for streaming
Paramount Home Video
Director: Rachel Griffiths
Writers: Andrew Knight, Elise McCredie
Producers: Rachel Griffiths, et. al.
Cast: Teresa Palmer, Sam Neill, Sullivan Stapleton, et. al.
The story of Michelle Payne, the first female jockey to win the Melbourne Cup.
Rated PG for some thematic elements, language and suggestive comments.