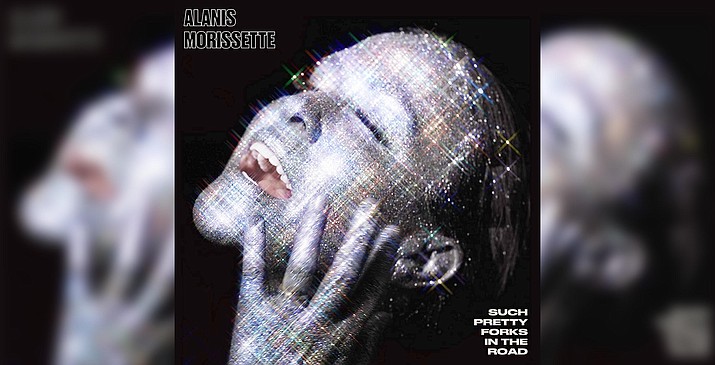 ---
---
Alanis Morissette – Such Pretty Forks in the Road
Epiphany Music
Seven-time Grammy Award-winning singer/songwriter, Alanis Morissette, released her new song, "Reasons I Drink" on Dec. 2 via Epiphany Music.
"Reasons I Drink" was co-written by Alanis and Michael Farrell and produced by Alex Hope.
The track comes off Alanis' highly anticipated ninth album, Such Pretty Forks in the Road. This will be Alanis' first original album since 2012's HAVOC AND BRIGHT LIGHTS. On Dec. 4, Alanis' debuted "Reasons I Drink" on The Tonight Show Starring Jimmy Fallon.
Alanis was also honored with the 2019 Billboard Women In Music Icon Award at their ceremony on Dec. 12 in Los Angeles.
She is scheduled to embark on a 31-date North American tour which kicks off June 2 in Portland, OR. Produced by Live Nation, the tour will celebrate 25 years of Jagged little Pill and she'll be playing all her biggest hits along the way. .
It will hit cities like Los Angeles, New York, Toronto, and Chicago before wrapping in Nashville, TN on July 25.
Tracks include: Reasons I Drink, Missing the Miracle, Losing the Plot, Sandbox Love, Smiling, Pedestal, Nemesis, Reckoning.
Car Seat Headrest – Making a Door Less Open
Matador Records
Despite the coronavirus, Making A Door Less Open, the new album from Car Seat Headrest and the first set of brand-new songs since 2016's Teens Of Denial, is set for release on May 1.
The album will be available on vinyl and CD featuring distinct tracklists and mixes for each format.
Created over the course of four years, Making a Door Less Open is the result of a fruitful 'collaboration' between Car Seat Headrest, led by Will Toledo, and 1 Trait Danger, a CSH electronic side project consisting of drummer Andrew Katz and Toledo's alternative persona, 'Trait.'
To realize this, the band recorded the album twice: once live with guitars, drums and bass, and once in a MIDI environment using purely synthesized sounds.
During the mixing process, the two approaches were gradually combined using elements of each, with additional overdubs.
Tracks include: Weightlifters, Can't Cool Me Down, Hollywood, Martin, Hymn (Remix), There Must Be More Than Blood, Deadlines, What's With You Lately?
Dixie Chicks – Gaslighter
Columbia Records Group
Gaslighter is the brilliant new album from the Dixie Chicks, and is the fifth studio album to be released by the band.
It is the Dixie Chick's first new album since 2006's Taking the Long Way, which won five Grammy Awards including album of the year, record of the year, and song of the year.
Gaslighter is produced by Jack Antonoff with the Dixie Chicks. Superstars, renegades, innovators, heroes, villains, and moms, the Dixie Chicks have grown from a band into a cultural phenomenon.
Since the release of their debut album, Wide Open Spaces in 1998, the Dixie Chicks' music has stirred emotions in fans across the world, making them one of the biggest and most influential bands of our time.
The band began to hint at a new album in June 2018 when Natalie Maines posted several photos from the recording studio on Instagram.
But the band did not confirm that an album was planned until a year later.
Album contains explicit lyrics.
Tracks include: Gaslighter, Go It Alone.
Kelly Lee Owens – Inner Song
Smalltown Supersound Records
Kelly Lee Owens' masterful second album Inner Song finds the convention-blurring techno producer and singer/songwriter diving deep into her own psyche-excoriating the struggles she's faced since the release of her breakout 2017 self-titled debut and exploring personal pain while embracing the beauty of the natural world.
It's a leap in artistry from a musician who burst forth on the scene with a confident, rich sound, and Inner Song is endlessly enticing when it comes to what Owens is capable of. Inner Song comes off of what Owens describes as "the hardest three years of my life," an emotionally fraught time.
"It was definitely impacting my creative life and everything I'd worked for up to that point," she explains. "I wasn't sure if I could make anything anymore, and it took quite a lot of courage to get to a point where I could make something again."
"With the first album, I was so obsessed with getting the right sound straightaway, which hindered the flow of ideas," she explains.
Tracks include: Arpeggi, Corner Of My Sky (ft. John Cale), Wake-Up, Jeanette.
Man Man – Dream Hunting in the Valley of the In-Between
Sub Pop Records
Honus Honus (aka Ryan Kattner) has devoted his career to exploring the uncertainty between life's extremes, beauty, and ugliness, order and chaos.
The songs on Dream Hunting in the Valley of the In-Between, Man Man's first album in over six years and their Sub Pop debut, are as intimate, soulful, and timeless as they are audaciously inventive and daring, resulting in his best Man Man album to date.
The 17-track effort, was produced by Cyrus Ghahremani, mixed by S. Husky Höskulds (Norah Jones, Tom Waits, Mike Patton, Solomon Burke, Bettye LaVette, Allen Toussaint), and mastered by Dave Cooley (Blood Orange, M83, DIIV, Paramore, Snail Mail, clipping).
Dream Hunting also includes guest vocals from Steady Holiday's Dre Babinski and Rebecca Black, singer of the viral pop hit, "Friday."
Tracks include: The Prettiest Song in the World, Animal Attraction, Unsweet Meat, Powder My Wig, In the Valley of the In-Between, Cloud Nein, On the Mend, Lonely Beuys, Oyster Point, Inner Iggy.