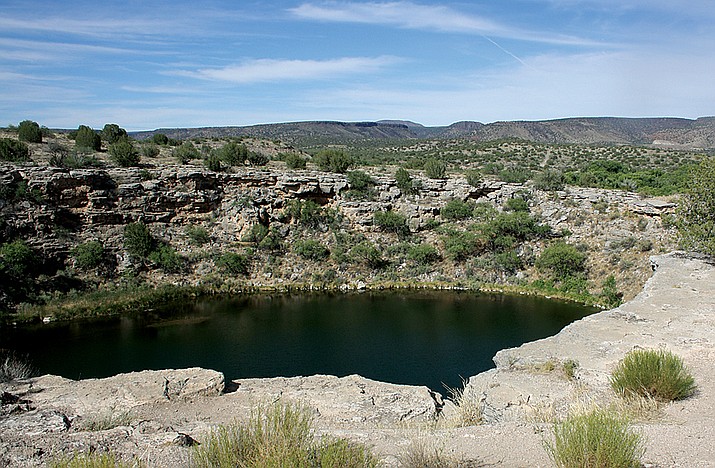 ---
---
The National Park Service is looking for several dedicated local volunteers to help with visitor programming at Montezuma Well National Monument, 5525 Beaver Creek Road, Rimrock, off Forest Service Road 618.
If you have ever wanted to share your appreciation for Montezuma Well with visitors from near and far, this is your chance.
National Park Service will offer training opportunities in August with plans to reopen Montezuma Well in September.

Staff, volunteers and visitors are encouraged to wear a mask and maintain six feet of social distancing at all times. The monument's Outlet and Swallet trails will remain closed and one-way traffic will be encouraged to facilitate social distancing.
National Park Service is looking for dedicated, local community members to contribute on a regular schedule. The position may include long periods of time standing, sitting, or walking the trail. You may be positioned inside or outside for extended periods of time. You may be asked to lift items weighing as much as 40 pounds.
National Park Service is more than willing to discuss and accommodate special requests for physical work when noted on your application. Individuals, couples or families are welcome. Those under the age of 18 will need to volunteer with an adult.
The monument's visitor services volunteers will mostly engage with the public. You will likely interact with over 100 people during your shift. You will greet visitors, answer questions about the park, remind visitors of various ways to recreate responsibly, give out popular destination directions, or work with junior rangers and BARK Rangers.
The Bark Ranger program was introduced as a way to encourage responsible national park travel with dogs.
BARK stands for: bag your poop, always wear a leash (six-foot max), respect wildlife (give them their space) and know where you can go (which trails/areas are pet friendly).
National Park Service asks for a minimum four-hour weekly commitment. Positions are available from 9 a.m. until 1 p.m. or from 1 p.m. until 5 p.m.
Anyone interested in becoming a volunteer can apply online at nps.gov/moca/getinvolved/volunteer.htm or request an application by emailing krystina_isaac@nps.gov.
You can also pick up a paper application at Montezuma Castle National Monument or at the Camp Verde headquarters, 527 S. Main St. Ask for Whitney.

For more information, call 928-567-3322, extension zero, or visit nps.gov/moca.