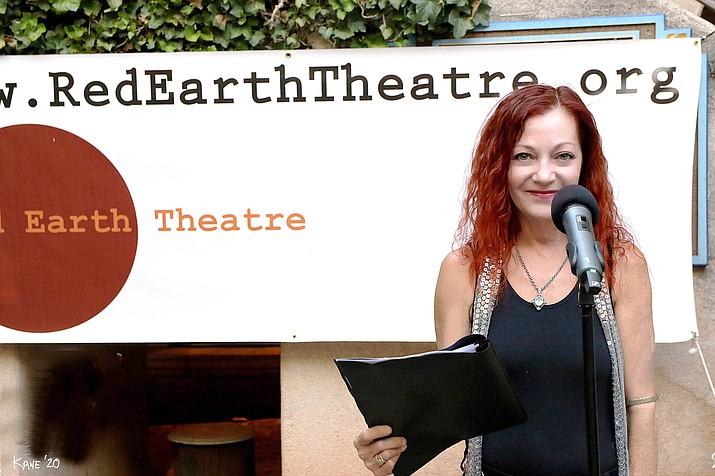 ---
---
Red Earth Theatre is offering live performance again with social distancing and safe practices to local communities in the Verde Valley.
After canceling two scheduled productions for March and May, the creative group quickly moved to produce 11 performances by Zoom. Of these, one was live streamed from Sedona Arts Center and two from Tlaquepaque without a live audience.

Post live streaming to Facebook, all 11 shows were edited and are available on the Red Earth Theatre You Tube Channel. Visit to see what Red Earth has been up to during these last four months as they continued to work with more than 30 performers, produce new work and support the community.
This month, Red Earth Theatre explores the Days Of August at Tlaquepaque on Thursday, Aug. 20, 6 p.m., with stories, poetry and music outdoors in the Patio de las Campanas. There is limited seating (20) for a live audience. Bring your own chairs, wear your masks and practice social distancing. Ticket prices at the door are $15. This show will also be live streamed, recorded and edited for the You Tube Channel.
Performers include Jill Trenholm, Clay Frankel, Michael Gallagher, Terra Shelman, Joan Westmoreland and Kate Hawkes with musings on National Lemonade Day, National Radio Day, National Potato Day, National Senior Citizens Day and World Humanitarian Day.
Red Earth will continue to bring live performance to Tlaquepaque on the third Thursday of each month with limited seating for live audience. Stay in touch with them via newsletter and at the website www.redearththeatr.org.
PopUp Pavement Theatre, Red Earth Theatre's innovative new program, kicks off in September when a traveling two- to four-person troupe will be available to bring live performance to your street.
Each 45-minute show will include music, poetry, theatre as well as an open mic opportunity for those in the audience who would like to perform. Bringing in a simple sound system, two mics and sanitizer, the PopUp Pavement Troupe is self-contained and can go anywhere.
A collaborative endeavor with the community, each show needs a local host with a driveway or street facing deck, an electric outlet and help getting the word out to your street. You choose social distancing measures based on your community and the location. Face masks are recommended. Bring your own chairs and sit at appropriate distances.
For more information and to make a booking email info@redearththeatre.org call 928-399-0997. In order to support our artists and administrative costs the suggested minimum fee is $150 (15 audience at $10 each.)
Red Earth Theatre is dedicated to providing opportunities for us to be together, sharing our common humanity within the parameters of our current circumstances. Support live performance, connect with your community, enjoy the outdoors - be safe.
If You Go ...
• What: Live Theatre - Outdoors
• When: Thursday August 20th 6.00pm
• Where: Tlaquepaque - Patio de las Campanas
• Cost: $15