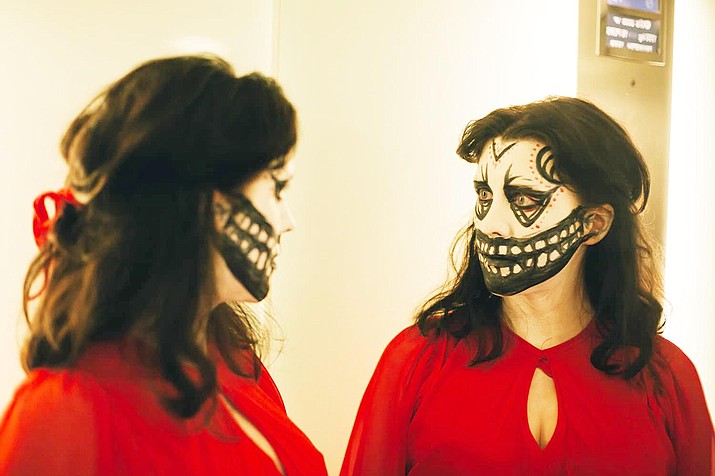 ---
---
Prevenge
Available for streaming
Shudder
Director: Alice Lowe
Writer: Alice Lowe
Producers: Vaughan Sivell, Jennifer Handorf, Will Kane, et al.
Cast: Alice Lowe, Jo Hartley, Kate Dickie, Gemma Whelan, Kayvan Novak, Tom Davis, Daniel Renton Skinner, Eileen Davies, Grace Calder, et. al.
After losing her husband in a horrific climbing accident, heavily pregnant Ruth begins hearing disturbing messages of murder and revenge from her unborn child. Prompted by a midwife who tells her the baby will know what is best for them both, Ruth begins to follow the baby's blood-thirsty instructions and embarks on a killing spree, hunting down and punishing all those involved in the accident that killed her husband and the father of her child.
Open 24 Hours
On DVD
Signature Entertainment
Director: Padraig Reynolds
Writer: Padraig Reynolds
Producers: Shibani Kapur, R.P. Khemanand, Alek Conic, et al.
Cast: Vanessa Grasse, Brendan Fletcher, Emily Tennant, Selina Giles, Jovana Miletic, Muírenn Eann Sutherland, Cole Vugue, Daniel O'Meara, et. al.
A young girl gets a graveyard shift at a gas station situated in the middle of nowhere.
She tells her boss that she has done time in prison for burning her serial killer boyfriend who survived the burns but is in prison.
She didn't tell the boss or her parole officer about her delusions.
Things get complicated on the very first nite as the line between reality and illusions gets blurry.
Rated PG for some action, language and rude/suggestive humor.
Emperor
On DVD
Briarcliff Entertainment
Director: Mark Amin
Writers: Mark Amin, Pat Charles
Producers: Mark Amin, Cami Winikoff, Reginald Hudlin, et. al.
Cast: James Cromwell, Bruce Dern, Kat Graham, et. al.
Civil War-era slave Shields Green goes on the run after killing one of the slave owners who brutally whipped his young son. He embarks on a harrowing journey of freedom to the north and a life on the run.
Green is hotly pursued by Catch 'Em Luke, a legendary bounty hunter. Green eventually meets up with famous figures, including abolitionist John Brown and Frederick Douglass. Shields takes part in the famous but unsuccessful raid of Harper's Ferry.
Rated PG-13 for violence throughout, language including racial epithets, and some disturbing images.
Military Wives
Available for streaming
Bleecker Street Media
Director: Peter Cattaneo
Writers: Rosanne Flynn, Rachel Tunnard
Producers: Piers Tempest, et. al.
Cast: Kristin Scott Thomas, Sharon Horgan, Emma Lowndes, Amy James-Kelly, et. al.
With their partners away serving in Afghanistan, a group of women on the home front form a choir and quickly find themselves at the center of a media sensation and global movement.
Rated PG-13 for some strong language and sexual references.