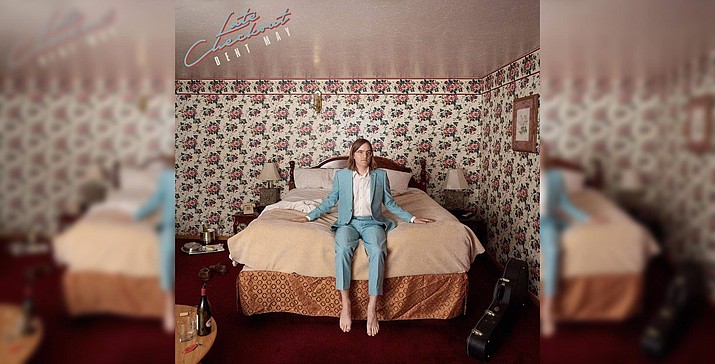 ---
---
Dent May – Late Checkout
Carpark Records
'Full speed ahead now, no more looking back.' Dent May confidently croons on his fifth LP, Late Checkout.
The un-nostalgic sentiment and sobering clarity of May's album signifies the songwriter from Mississippi taking a reflective rest-stop on his decade-long career.
After relocating to Los Angeles in 2015 and building his own studio, May began to savor the minutiae of his daily life spent wandering around LA, not getting invited to hang with friends, and waking up in hotel rooms after DJing weddings.
Bearing the torch of classic American songwriters that inspired him like Harry Nilsson, Carole King, and Randy Newman, May has cultivated his iPhone notes and subconscious melodies into songs that could stand the test of time.
Through the dozen tracks ranging from upbeat pop orchestrations to melancholy ballads, on Late Checkout, May grapples with the swinging emotions of our reality with a rare optimism and distinguished sound.
Tracks: Bungalow Heaven, Bless Your Heart, Easier Said Than Done, I Could Use A Miracle, Didn't Get The Invite.
Bright Eyes – Down in the Weeds, Where the World Once Was
Dead Oceans Records
With a legendary career spanning Sometimes it feels like you hear a Bright Eyes song with your whole body.
From Conor Oberst's early recordings in an Omaha basement in 1995 all the way up to 2020, Bright Eyes' music tries to unravel the impossible tangles of dissent: personal and political, external and internal.
It's a study of the beauty in unsteadiness in all it's forms - in a voice, beliefs, love, identity, and what fills up the spaces in-between. And in so many ways, it's just about searching for a way through.
The year 2020 is full of significant anniversaries for Bright Eyes. Fevers and Mirrors was released 20 years ago this May, while Digital Ash in a Digital Urn and I'm Wide Awake It's Morning both turned 15 in January.
The latter, a singer-songwriter tour-de-force released amidst the Bush presidency and Iraq war, wades through incisive anti-war rhetoric and micro, intimate calamities.
Tracks include: To Death's Heart (In Three Parts), Forced Convalescence.
Bully – Sugaregg
Sub Pop Records
SUGAREGG roars from the speakers and jumpstarts both heart and mind.
Like My Bloody Valentine after three double espressos, opener "Add It On" zooms heavenward within seconds, epitomizing band leader Alicia Bognanno's newfound clarity of purpose, while the bass-driven melodies and propulsive beats of "Where to Start" and "Let You" are the musical equivalents of the sun piercing through a perpetually cloudy sky.
A very old saying goes that no one saves us but ourselves. Recognizing and breaking free from the patterns impeding our forward progress can be transformative.
Indeed, the third Bully album, SUGAREGG, may not ever have come to fruition had Bognanno not navigated every kind of upheaval imaginable and completely overhauled her working process along the way.
The artist admits that finding the proper treatment for bipolar 2 disorder radically altered her mindset, freeing her from a cycle of paranoia and insecurity about her work.
Tracks include: Stuck in Your Head, Where to Start, Hours and Hours, What I Wanted, Every Tradition, Come Down, You, Not Ashamed, Add It On, Prism.
Guided by Voices – Mirrored Aztec
GBV Inc Records
When we last heard from Guided by Voices, they had released an astonishing four albums in just over 12 months.
Each has a distinctive creative identity: Zeppelin Over China was a meat-and-potatoes double album, Warp And Woof was a return to the band's low-fidelity roots and under-two-minute earworms, Sweating The Plague was a slice of moody stadium rock, and Surrender Your Poppy Field was an unpredictable grab-bag of all of the above.
After venturing through the tangled brambles of Plague and Poppy Field, here is a sunny summer reprieve, a relentless barrage of hooks-Mirrored Aztec is the latest stop on this runaway train.
Like it's immediate predecessors, Mirrored Aztec is both it's own entity and unmistakably GBV.
It's also their most immediately welcoming and inviting offering in years-there's nothing a fan of The Who, Big Star, or Wire, wouldn't love.
For the GBV uninitiated, the clean, confident hooks will resonate immediately.
Tracks include: I Think I Had It I Think I Have It Again, Please Don't Be Honest, A Whale Is Top Notch, Easier Not Charming.
The Front Bottoms – In Sickness & In Flames
WEA/Fueled by Ramen Records
The Front Bottoms have announced details of their widely anticipated new album, In Sickness & In Flames.
The 12-song collection, which was produced by Mike Sapone, follows the band's acclaimed 2017 LP Going Grey.
The duo of Brian Sella and Mathew Uychich have also shared "montgomery forever," a brand-new track off the forthcoming LP and joined by an official music video directed by longtime collaborator Mark Jaworski.
The band posted a personal letter to their fans expanded on the new album sharing, "Earlier this year, we made a new album and decided to name it In Sickness & In Flames. When we were writing the album and settling on the title, it meant something completely different to us. We could have never imagined where the world would be just six months later. In true TFB style this album has developed into something of its own that we no longer control the narrative of."
Album contains explicit lyrics.
Tracks include: montgomery forever, love at first sight, Fairbanks, Alaska, everyone blooms, the hard way, new song d, camouflage, make way.