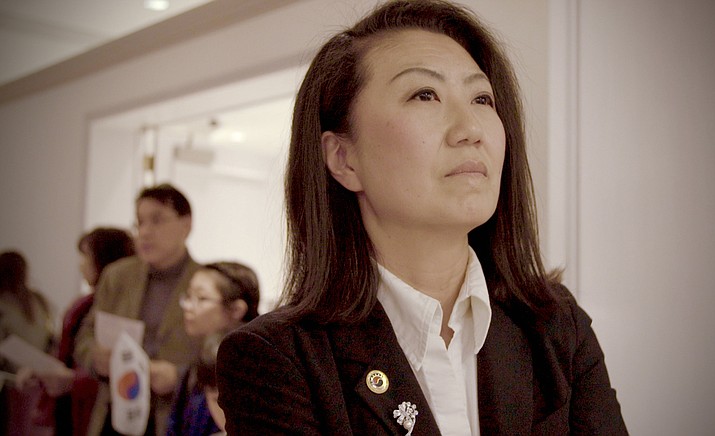 ---
---
The Sedona International Film Festival's MDF@Home program this week showcases the new movie "Represent."
In the heart of the American Midwest, three women take on the status quo in campaigns that promise to reshape local politics on their own terms.
Equal parts personal and political, "Represent" follows three women on both sides of the aisle who share the singular goal of improving their community through public service.
Myya attempts to spark a youth movement and unseat the incumbent mayor of Detroit; Bryn, a farmer and working mother in Granville, OH, runs for township trustee; and Julie walks a tightrope between her identities as a Korean immigrant and Republican candidate for State Representative in a liberal Chicago suburb.
"With a film titled 'Represent', it felt like my responsibility to ask big questions about the true power of representation," said director Hillary Bachelder.
"Yes, the demographics of elected officials are important, and gender identity, race, and sexual orientation on their own can be powerful symbols. But even more significant is a candidate stepping into a space that wasn't built for them and still unapologetically bringing their whole selves into the spotlight with them."
"I knew it was important, then, for me to present each woman as more than a campaign commercial. I needed to let them be full people with flaws, complicated relationships, and moments of vulnerability and opportunities for improvement.
'Represent' deepens these portraits by developing stakes that extend beyond the campaign trail, and the arc of the film ultimately continues past election night to paint a richly personal picture of joy, of loss, of mother-daughter relationships, owning your narrative, and of growth," continued Bachelder.
So that's what I hope to offer now with 'Represent': a tender and often unexpected telling of three passionate candidates, the challenges they face, and a glimpse at what we all have to gain when women shape the future of our communities and ultimately, our country."
To view this film and other titles, log on to SedonaFilmFestival.org and click on the MDF@Home link under the Events tab on the home page (or directly visit SedonaFilmFestival.com/mdfhome/) for links to order virtual screenings of any of the available films.
For each title, a portion of all sales will benefit the Mary D. Fisher Theatre and Sedona International Film Festival.