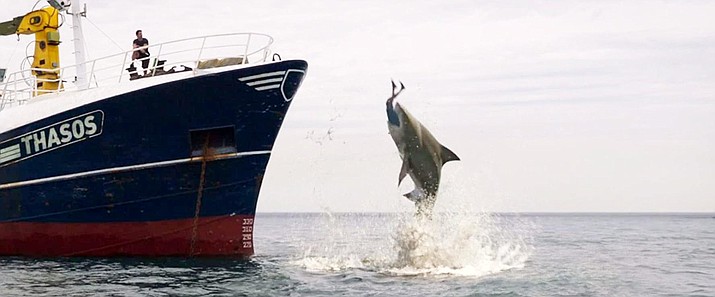 ---
---
Deep Blue Sea 3
Available for streaming
Warner Bros. Home Entertainment
Director: Chris Foggin
Writers: Piers Ashworth, Meg Leonard
Producers: Nick Moorcroft, James Spring, Meg Leonard, et al.
Cast: James Purefoy, Meadow Nobrega, David Hayman, et. al.
A fast living, cynical London music executive (Daniel Mays) heads to a remote Cornish village on a stag weekend where he's pranked by his boss (Noel Clarke) into trying to sign a group of shanty singing fishermen (led by James Purefoy). He becomes the ultimate "fish out of water" as he struggles to gain the respect or enthusiasm of the unlikely boy band and their families (including Tuppence Middleton) who value friendship and community over fame and fortune. As he's drawn deeper into the traditional way of life he's forced to reevaluate his own integrity and ultimately question what success really means.
Rated PG-13 for some strong language, and suggestive references.
One Night in Bangkok
On DVD
Lionsgate Home Entertainment
Director: Wych Kaosayananda
Writer: Wych Kaosayananda
Producers: Scott Clayton, et. al.
Cast: Mark Dacascos, Michael S. New, Kane Kosugi, Sahajak Boonthanakit, Julie Condra, Charlie Ruedpokanon, et. al.
A female cab driver gets more than she bargains for when she picks up Kai and agrees to be his driver during his six-hour stay in Bangkok.
She gradually finds out that Kai is a professional assassin who leaves a string of murders in his wake as she drives him across the city. Once she finds out that Kai is a hitman, it's too late to back out of the deal.
Rated R for violence, language, some sexuality, nudity and brief drug use.
Infamous
Available for streaming
Vertical Entertainment
Director: Joshua Caldwell
Writer: Joshua Caldwell
Producers: Thor Bradwell, et. al.
Cast: Bella Thorne, Jake Manley, Amber Riley, et. al.
Living in a small Florida town and working at a diner was never Arielle's dream life. She's always wanted more. Fame. Popularity. Admiration. When she falls for a recently paroled young criminal named Dean, she drags him back into a life of danger, learning that posting their criminal exploits on social media is an easy way to viral fame.
Obsessed with their rising number of followers, they embark on a dangerous adventure together that leads to robbery, cop chases and even murder.
Heading to Hollywood, they will realize what it takes to become famous and have to decide if this dangerous lifestyle is really worth it.
The King of Staten Island
Available for streaming
Universal Pictures
Director: Judd Apatow
Writers: Judd Apatow, Pete Davidson
Producers: Judd Apatow, et. al.
Cast: Pete Davidson, Bel Powley, Ricky Velez, et. al.
Scott has been a case of arrested development since his firefighter dad died. He spends his days smoking weed and dreaming of being a tattoo artist until events force him to grapple with his grief and take his first steps forward in life.
Rated R for language and drug use throughout, sexual content and some violence/bloody images.