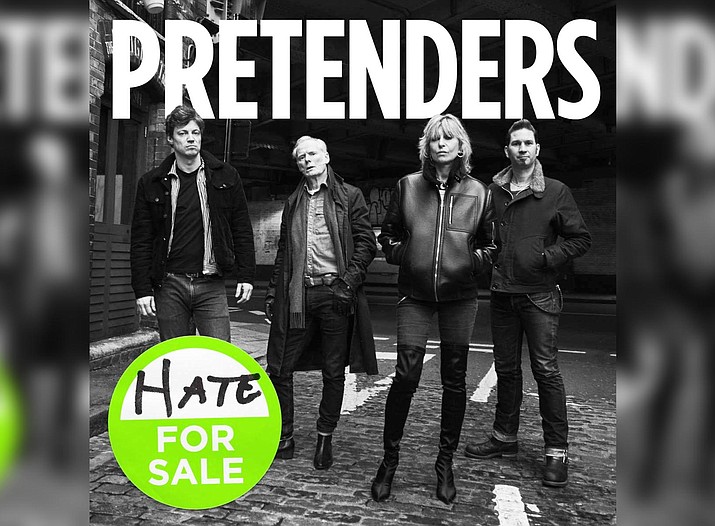 ---
---
Pretenders – Hate for Sale
BMG Rights Management (UK) Ltd
Hate for Sale is the upcoming 11th studio album by The Pretenders.
On March 24, Hate for Sale was delayed due to the impact of the COVID-19 pandemic on the music industry; the band shared their The Damned tribute "Hate for Sale" the same day.
"You Can't Hurt a Fool" was released for free on April 14. It is the first Pretenders album since 2002's Loose Screw to feature original member Martin Chambers, who was absent on Break Up the Concrete and Alone.
The original band consisted of founder and main songwriter Chrissie Hynde (lead vocals, rhythm guitar), James Honeyman-Scott (lead guitar, backing vocals, keyboards), Pete Farndon (bass guitar, backing vocals), and Martin Chambers (drums, backing vocals, percussion).
Following the drug-related deaths of Honeyman-Scott and Farndon in 1982–83, the band experienced numerous subsequent personnel changes. Hynde has been the band's only consistent member.
Tracks: Hate for Sale, The Buzz, Lightning Man, Turf Accountant Daddy, You Can't Hurt a Fool, I Didn't Know When to Stop, Maybe Love Is in NYC, Junkie Walk.
Jarv Is ... – Beyond the Pale
Rough Trade Us Records
With a legendary career spanning nearly five decades, Kansas has firmly established itself as one of America's iconic classic rock bands.
Kansas, from Topeka, released its debut album in 1974 after being discovered by Wally Gold, who worked for Don Kirshner, and have gone on to sell more than 30 million albums worldwide.
The band is currently comprised of original drummer Phil Ehart, bassist/vocalist Billy Greer, vocalist/keyboardist Ronnie Platt, violinist/guitarist David Ragsdale, keyboardist/vocalist Tom Brislin, guitarist Zak Rizvi, and original guitarist Richard Williams.
With no signs of slowing down, Kansas continues to perform in front of large and enthusiastic audiences around the world.
The Absence of Presence follows-up the band's 2016 release The Prelude Implicit, which debuted at #14 on Billboard's Top 200 Albums chart.
Tracks include: The Absence of Presence, Throwing Mountains, Jets Overhead, Propulsion 1, Memories Down the Line, Circus of Illusion, Animals on the Roof, Never, The Song the River Sang.
Jessy Lanza – All The Time
Hyperdub Records
'All The Time', Jessy Lanza's first album since 2016's 'Oh No', is the most pure set of pop songs that she and creative partner Jeremy Greenspan have recorded, reflective and finessed over time and distance. Innovative juxtapositions sound natural, like rigid 808s rubbing against delicate chords in 'Anyone Around', subtle footwork flutter giving a nervous energy to 'Face', unusual underwater rushes underpinning 'Baby Love'.
The songs also sound more 'live' than ever before. Jessy's voice is treated, re-pitched and edited on songs like 'Ice Creamy' and gestural sounds seem to respond to her lyrics in songs such as 'Like Fire', which reward the listener on repeated plays.
More than previous albums, the lyrics on 'All The Time' became an important focus for Jessy too, channelling the negativity of anger and frustration arising from some significant changes in her personal situation into the text. These lyrics sometimes process raw feelings, which aren't obvious to begin with, but are soon felt, standing in stark contrast to the cushioned settings of the music.
Tracks include: Anyone Around, Lick in Heaven, Face, Badly, Alexander, Ice Creamy, Like Fire, Baby Love, All the Time.
Jon Hassel – Seeing Through Sound (Pentimento Vol. Two)
Ndeya Records
A companion piece to 2018's Listening To Pictures, this second volume in the pentimento series presents eight new tracks by Jon Hassel, continuing his lifelong exploration of the possibilities of recombination and musical gene-splicing.
Pentimento is defined as the 'reappearance in a painting of earlier images, forms, or strokes that have been changed and painted over' and this is evident in the innovative production style that 'paints with sound' using overlapping nuances to create an undefinable and intoxicating new palette.
He is best known for developing the musical concept Fourth World, which describes a "unified primitive/futurist sound" combining elements of various world ethnic traditions with modern electronic techniques.
He has also worked with artists such as the Theatre of Eternal Music, Talking Heads, Farafina, Peter Gabriel, Ani DiFranco, Techno Animal, and Ry Cooder.
Tracks include: Fearless, Moons Of Titan, Unknown Wish, Delicado, Reykjavik, Cool Down, Lunar, Timeless.
Protomartyr – Ultimate Success Today
Domino Records
There is a sting in the summer blossom of Ultimate Success Today, Protomartyr's new album.
Arriving after Relatives In Descent, Protomartyr's headlong dive into the morass of American life in 2017, Ultimate Success Today is a fitting follow-up for the Detroit band.
Protomartyr features Joe Casey on vocals, Greg Ahee on guitar, Alex Leonard on drums and Scott Davidson on bass guitar.
Prior to Protomartyr, Ahee and Leonard were performing as a duo, which was named Butt Babies. They were soon joined by Joe Casey, who started to perform on vocals at Butt Babies shows.
Kevin Boyer of Tyvek joined Protomartyr on bass and second guitar for a short time before leaving the act due to the working schedules with his other band.
As Scott Davidson joined the band on bass, Butt Babies transformed into Protomartyr.
Tracks include: Day Without End, Processed By The Boys, I Am You Now, June 21, The Aphorist, Michigan Hammers, Bridge & Crown, Tranquilizer, Worm In Heaven, Modern Business Hymns.