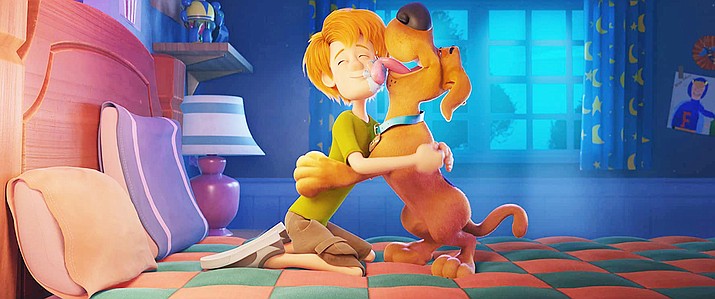 ---
---
Scoob!
Available for streaming
Warner Bros.
Director: Tony Cervone
Writers: Matt Lieberman, Adam Sztykiel
Producers: Allison Abbate, et al.
Cast: Will Forte, Frank Welker, Amanda Seyfried, Mark Wahlberg, Jason Isaacs, Gina Rodriguez, Zac Efron, Kiersey Clemons, Ken Jeong, Tracy Morgan, Ariana Greenblatt, et. al.
Scoob! features a new adventure for Scooby Doo and the Mystery Inc. gang.
There's a plot afoot that seeks to unleash the ghost dog Cerberus, and it's the gang's job to stop it.
We'll see how Scooby and Shaggy first met many years ago and how they came to meet with Fred, Daphne, and Velma to form the amazing team that would go on to solve hundreds of cases.
With this new Cerberus threat emerging, they will face their most challenging mystery with a ghostly dogpocalypse, and it's revealed that Scooby has a secret destiny that will soon be realized.
Rated PG for some action, language and rude/suggestive humor.
Deadtectives
Available for streaming
Shudder
Director: Tony West
Writer: Tony West
Producers: Jason Tamasco, Daniel Posada, Samantha Castellano, Alexis Fridman, et al.
Cast: Chris Geere, Tina Ivlev, Martha Higareda, David Newman, Jose Maria de Tavira, Cecelia Antoinette, Pablo Guisa Koestinger, Emilio Savinni, et. al.
The most haunted mansion in Mexico is full of ghouls, goblins and broken dreams for a group of film makers striving to create a reality TV ghost hunting show. Seemingly on the brink of failure, the group finds true paranormal activity below the border.
This slapstick comedy-horror film is a true coming of age tale for young film makers seeking fame and fortune but finding a whole other dimension.
Perfectly balancing humor and scares, this film gives a new prospective to a group of film makers.
Capone
Available for streaming
Vertical Entertainment
Director: Josh Trank
Writer: Josh Trank
Producers: Russell Ackerman, Aaron L. Gilbert, et. al.
Cast: Tom Hardy, Linda Cardellini, Matt Dillon, et. al.
Ruthless gangster Al Capone used to rule the Chicago streets during the Prohibition. Politicians, businesses, and bootleggers all answered to him. But nothing could spare the crime lord from facing justice.
After serving a 10-year sentence, Capone is released from jail and on the brink of insanity.
Marriage Story
Available for streaming
Netflix
Director: Noah Baumbach
Writer: Noah Baumbach
Producers: David Heyman, et. al.
Cast: Adam Driver, Scarlett Johansson, Laura Dern, Alan Alda, Ray Liotta, Julie Hagerty, Merritt Wever, et. al.
Marriage Story is Academy Award nominated filmmaker Noah Baumbach's incisive and compassionate look at a marriage breaking up and a family staying together.
Rated R for language throughout and sexual references.