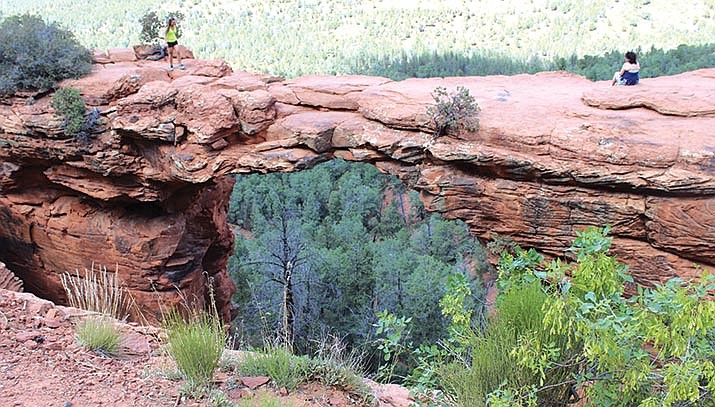 ---
---
If you are looking for a peaceful hike where you might only see one or two people, the hike to the end of Devil's Bridge Trail might not be your best decision.
It's known as one of the most popular trails in Sedona and often draws many travelers and tourists. That being said though, the shortness of the trail and the sites that it provides is well worth the high amount of traffic throughout the hike.

The hike to the top starts in a parking lot on the right-hand side of Dry Creek Road. To get to Dry Creek Road from Cottonwood, follow 89A up into Sedona, past the Sedona Red Rock High School until you start to enter the town and turn left. Follow the road until you see the parking lot on your right hand side.
From here you can continue to drive on a rocky dirt road, but I only recommend that if you have a jeep, truck, or something elevated off the ground. FR 152, the dirt road that leads to the Devil's Bridge trailhead, can be found to the right of the parking lot, but you can also follow a hiking trail from the parking lot to the trailhead. This only extends the trail by about a mile both ways.
The trail provides plenty of views throughout the short hike. The first viewpoint is early on in the hike and provides great views of the greenery throughout and Sedona along with a great view of the Red Rocks. Plenty of people stop here for a great photo opportunity.
As you continue to climb of the trail, which has spots that are both very easy and somewhat difficult, there will be another great viewpoint hidden behind a section of trees. There is a short path that leads out onto a grouping of rocks that provides a great location for lunch and photos.
You'll continue on after the viewpoint and when the trail starts to narrow and curve along a mountain you will notice the Devil's Bridge, which is a natural arch in the Red Rocks.
As you look out from behind the bridge you can see the great sights that the Red Rocks provide, along with a pretty cool experience. Many people will set on the edge of the bridge while another takes a photo, just be sure not to fall off.
Before reaching the top of the trail though it does split into two. The left side of the fork is a trail that leads to underneath the arch so that you can see it from a different angle.
To completely enjoy this hike, I would recommend a bottle of water and maybe a couple snacks for the short hike. I would rank this trail as an easy hike but there are spots in which the terrain is a little more challenging.