Mingus vaulters soar to top spots in state rankings
Originally Published: March 9, 2020 1:44 p.m.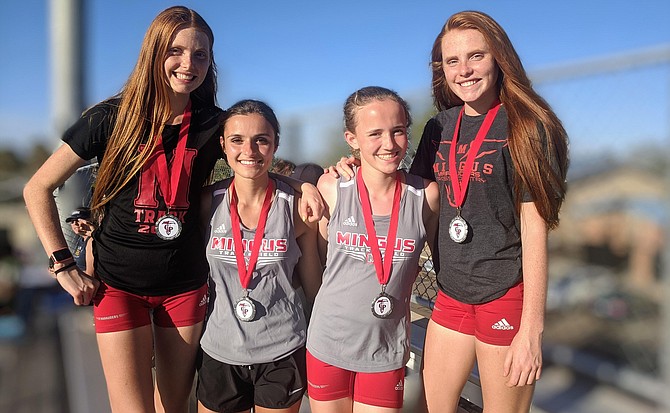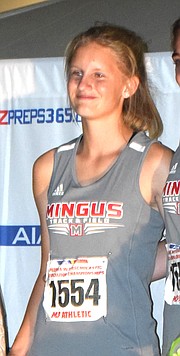 It's Week 2 of the Arizona high school track and field season and the sky is the limit for Mingus Union pole vaulters.
Mingus already has three automatic qualifiers in the vault for May's state championship meet and four athletes who rank in the top 10 in the state.
On the boys side, senior Andrew Peterson recorded the second highest jump in school history with a 13-foot, 6-inch effort at Saturday's Arizona Small School's Invitational. That gives Peterson an auto qualifier for state and the third highest jump among Division 3 athletes this week behind a pair of massive 14-7 jumps by Snowflake's Payson Stepp and Coconino's Grant Hagaman.
On the girls side, Mingus has three vaulters ranked among the state's top 10 performers in Division 3, including senior Joelle Santiago, who is tied for the highest jump in the state at 10-feet, 6-inches.
Joining Santiago as an automatic qualifier for state is sophomore Alexandra Carey with a jump of 9-feet, which is the third best vault in D3 so far this season.
Also ranked in the top 10 for Mingus is rapidly improving sophomore Aysha Khalil, who is ranked 10th in Division 3 with a best jump of 7-6.
For the boys, Mingus has one other individual performer ranked in the top 10 in the state. Silas Willoughby is ranked 9th in the 800-meter run with a best time of 2:05.87, which was good enough to win Saturday's Small Schools Invitational. Also ranked in the top 10 in the state for Mingus are the Marauder 4X400 and 4X800 teams. The 4x400 quartet of Willoughby, Taylor and John Capite and Travis Shilling is ranked seventh with a best time of 3:36. The 4X800 team of Cesar Diaz, Isaac Reynolds, Joseph Calhoon and Ashton Bialek-Kling is ranked 10th with a best time of 8:58.
For the Mingus girls, sophomore Brooke Peterson has established herself as one of the most versatile athletes in the state. Peterson ranks third in the state in the 300 hurdles (50.14), fourth in the 400-meter dash (62.04), eighth in the 100-meter hurdles (17.24) and 15th in the high jump (4-8). She has achieved provisional qualifying standards in all four events.
Peterson is also a member of Mingus' defending state champion 4X400 relay team, which this week is ranked 6th among D3 teams with a best time of 4:27. Mingus' 4X800 team, led by sophomores Claire and Aubrey Peterson, is ranked 8th in the state this week with a best time of 10:58.
Mingus only other provisional state qualifier so far this season is sophomore Makena Bliss, who is ranked 12th in the state with a 12:37 clocking in the 3200-meter run.
Mingus' next meet will be March 17 at the Sedona Friendship Meet.
Overall State Highlights
Last season, North Canyon High School phenom Dominique Mustin claimed four gold medals at the 2019 Arizona high school state track and field championships. She owned the top spot on the podium in the 100-meter hurdles, 400-meter dash, 800-meter run and as a member of North Canyon's 4X400 relay team, which is the fastest in state history.
Along the way, Mustin established an Arizona state record in the 800 with a 2:06.01 clocking.
So far this season, Mustin predictably leads the state rankings in the 400 and 800. She's also ranked No. 2 overall in Arizona in the 100-meter hurdles and also has run a leg on North Canyon's state-leading 4X100 relay team.
What is not so predictable about Mustin was her entry in the 300-meter hurdles in Saturday's Husky Invite at Horizon High School. This marked only the third time in her high school career that Mustin has tested her skill-set in the event, and the first time since her sophomore season.
Despite her lack of experience in the 300 hurdles, Mustin won the race by seven seconds in 42.03 seconds, which ranks her as the third fastest performer, with the fifth fastest time, in Arizona history.
Fastest 300-meter hurdle times in Arizona history
Ma'kayla Dickerson, Fairfax, 2019, 41.38
Ma'kayla Dickerson, Fairfax, 2018, 41.72
Ma'kayla Dickerson, Fairfax, 2019, 41.97
Jaide Stepter, Canyon del Oro, 2012, 42.01
Dominque Mustin, North Canyon, 2020, 42.03
Jaide Stepter, Canyon del Oro, 2012, 42.18
Jae'Nisa Heckstall, Kellis, 2017, 42.23
Jai Gruenwald, Chandler, 2017, 42.24
Jasmine Stauffacher-Gray, North Canyon, 2014, 42.27
Kiana Kai, Campo Verde, 2019, 42.39
SUBMIT FEEDBACK
Click Below to:
More like this story