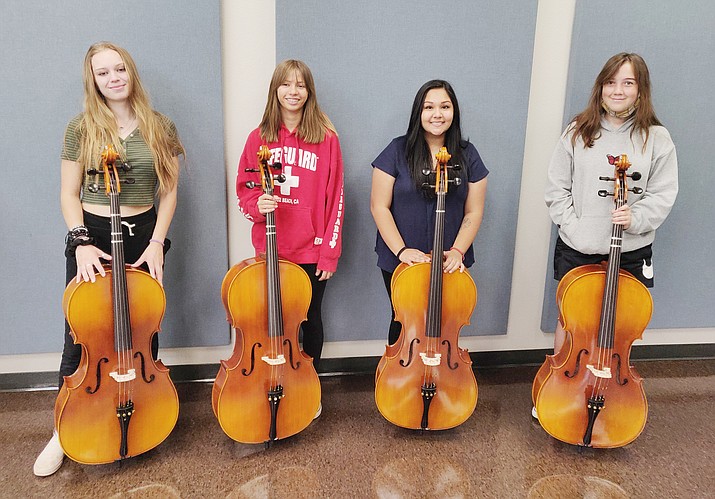 ---
---
As Sedona Red Rock High School launched the 2020-21 school year, its students received a generous gift that will enhance the school's music program for years to come: four new, professionally built cellos and teaching accessories donated by Chamber Music Sedona.
The cellos were obtained with the help of a $5,000 donation from six Chamber Music Sedona patrons and a nearly $1,500 matching grant from the Classics for Kids Foundation, a Holliston, Mass.-based nonprofit organization that aims to empower young people through music by supporting children's string programs.
The cellos were built in Cincinnati, Ohio, following precise specifications that were donated and monitored by John Kirk, founder and luthier of Kirk Violins in Billings, Mont.
With a reputation for creating high-quality instruments, Kirk Violins is a community-focused company that strongly supports musical education in Montana and beyond.
The teaching accessories needed to optimize the students' lessons were purchased from Southwest Strings in Tucson.
Chamber Music Sedona's donation of the cellos was well-timed for the arrival of the school's new music teacher, acclaimed professional cellist Avery Waite.
A graduate of the Juilliard School and Oberlin Conservatory, Waite is a passionate educator who has led youth music projects and workshops all over the globe, from Afghanistan to Myanmar to El Salvador.
As a musician, his recent performances have included an appearance alongside legendary violinist Itzhak Perlman, as well as a guest performance for former President Barack Obama during his 2018 visit to Nairobi.
Most recently, Waite received a prestigious Fulbright Grant to spend a year in India helping to develop and coach youth orchestra programs across the country. 
He is also the Executive Director of MusAid, a nonprofit organization that organizes music workshops and teacher-training seminars worldwide.
In his new role at SRRHS, Waite will direct two sections of Orchestra and teach seventh- and eighth-grade Music Appreciation, Music Composition and Songwriting.
"This incredible donation of five high quality, gorgeous sounding cellos is both generous and timely! The cello students frequently tell me how much they love these instruments and how they've noticed an improvement in their playing due the superior tone quality and playability of these beautiful cellos. We are deeply grateful to Chamber Music Sedona for their continued support of our program and for investing in music education during these difficult times. I have no doubt that these cellos will be treasured by students for many, many years to come," said Avery Waite.
Chamber Music Sedona looks forward to working with Waite and the rest of the SRRHS Music Department in order to enhance students' educational experiences through music.
The donation of the cellos is the latest initiative in a long-standing relationship between the organization and local schools. As part of its mission to promote a love of the performing arts and enrich the culture of the Sedona area, Chamber Music Sedona has been supporting music education for children and teens for decades.
In addition to material support — including donations of instruments and accessories — Chamber Music Sedona hosts the Concerts for Youth series each year. Held at the Sedona Performing Arts Center, these concerts are performed by world-class professional musicians who personally engage with the students, answer their questions and explain the intricacies of classical music.
 Over the years, Chamber Music Sedona's support has been integral to expanding arts education in local schools and fueling talent among budding young musicians.
To learn more about the organization's music education programs, visit https://chambermusicsedona.org/education/.