Cities, towns, others plan drive-thru Halloween events
Halloween adjusted for large-gathering restriction
Jason W. Brooks and Bill Helm
Originally Published: October 27, 2020 3:10 p.m.
With the governor's limit on large public gatherings during the COVID-19 pandemic, Verde Valley leaders and others who typically coordinate Halloween events have made adjustments.
The Town of Clarkdale canceled both of its events. Other communities scaled back or canceled major events as well.
Here are some announcements about Halloween events around the Verde Valley, designed to slow the spread of the virus while still celebrating as a community.
Cottonwood: Brian Mickelsen Parkway becomes 'Spooky Street'
Brian Mickelsen Parkway will be closed to through traffic Saturday, Oct. 31, from 3 p.m. to 8 p.m., in observance of Cottonwood Park and Recreation's Drive-Thru Trunk-or-Treat.
This event is open to all ages and will take place from 4 p.m. to 7 p.m.
There will be no right turn onto Mickelsen Parkway from Mingus Avenue. Traffic will enter from Sixth Street, onto Mickelsen, between the Recreation Center and Library.
Trunk-or-Treaters must stay in their vehicles. The "Trunk Hosts" will bring candy to you.
Shortly after 7 p.m., staff will show our Spooktacular Movie in the Park: "The Haunted Mansion." Masks and physical distancing are required.
Members and guests looking to use any of the amenities located on the Cottonwood Recreation Center campus should use the employee entrance located on Sixth Street. Community members wishing to visit the County building or Garrison Park should use the entrance located on Mingus Avenue.
For more information, call the Parks and Recreation department at 928-639-3200 or visit its page on cottonwoodaz.gov.
Camp Verde: Halloween Trunk or Treat
Camp Verde's annual Main Street Trunk or Treat Halloween Festival is from 5 p.m. until 7 p.m. Saturday, Oct. 31.
Main Street will be closed down from ACE Hardware to the Camp Verde Feed Store to allow for a safe environment for families to enjoy the activities, Parks and Recreation Manager Mike Marshall said.
"This event is intended for our local Camp Verde community," Marshall said. "We will be doing a few things differently to make this event as safe as possible for the community, staff, volunteers, and the individuals handing out candy."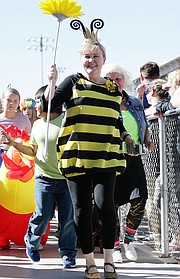 Anyone giving out candy will be required to wear masks and gloves while handing out candy, and check-in the day of the event to get their candy and assigned location on the street.
Trick or Treaters will be asked to follow a counter-clockwise direction down Main Street, which just means follow the directional arrows and the crowd.
Parks and Recreation asks that everyone observes social distancing, and that anyone feeling sick should stay at home.
Any individual, organization or business that wants to participate is encouraged to contact Camp Verde Parks and Recreation 928-554-0820 ext. 3 or parks@campverde.az.
Sedona: Limited events
Due to the suspension of large gatherings, Sedona's Parks and Recreation Department is not holding either the Pumpkin Splash nor the Uptown Trick-or-Treat events this year.
The community is invited to visit the Sedona United Methodist Church for its sixth annual "Trunk-or-Treat" free event, Saturday, Oct. 31, in the church parking lot from 6 p.m. to 8 p.m.
The drive-thru event will include car trunks decorated in Halloween fashion. Everyone is asked to remain inside their vehicles and drive through the church lot to view the trunks and decorations. Candy will be given out in prepackaged treat bags.
The church is located at 110 Indian Cliffs Road, off State Route 179 at the Back O' Beyond and Indian Cliffs Road roundabout.
For information, call 928-282-1780 or visit sedonaumc.org
The lone Halloween-themed city event still taking place will be a pumpkin-carving contest. The deadline to enter is Wednesday, Oct. 28.
To participate, submit a photo of your carved pumpkin, category in which you wish to enter and the name of the pumpkin carver to Ail Baxter, Parks and Recreation Department Recreation Coordinator, by Oct. 28 at abaxter@sedonaaz.gov.
Choose from three categories to enter: scariest, most creative or "most Sedona."
A winner in each category will be chosen by Mayor Sandy Moriarty and announced Monday, Nov. 2.
Winners will be notified by email and given a prize. Photos of the winning pumpkins will be displayed on the city's Facebook page.
Jerome: No Halloween ball, but donations welcome
The Jerome Volunteer Fire Department has been keeping the historical town of Jerome, Arizona, safe since 1899. However, due to COVID-19, the auxiliary will not be able to host this year's 46th annual Firefighters Halloween Ball, their biggest fundraiser of each year.
Without this income, it will be hard to sustain the Jerome Fire Department's Auxiliary's needs, so the organization has launched a GoFundMe charity campaign with a goal of $10,000 to support their work.
Search gofundme.com for "Jerome Volunteer Fire Department" to donate.
Beaver Creek: No annual 'Spooktacular'
Due to COVID-19, Beaver Creek will not hold its annual Halloween Spooktacular this year.
However, Beaver Creek School has planned a costume walk and other activities for its students on Thursday, Oct. 29. Also due to COVID-19, this event is not open to the public.
SUBMIT FEEDBACK
Click Below to: