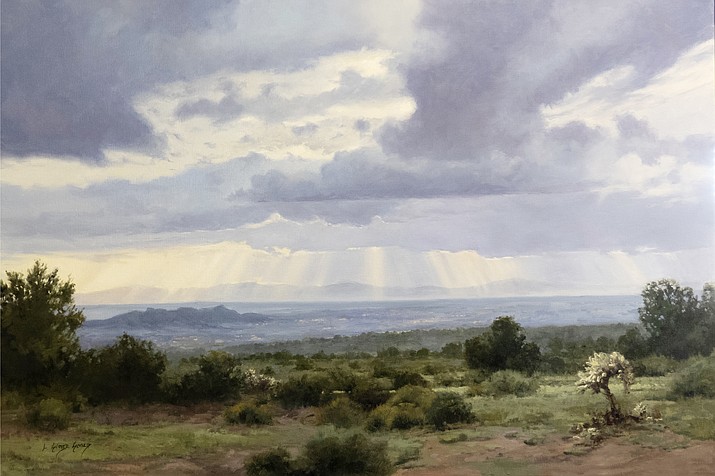 ---
---
Arizona artist Linda Glover Gooch, renowned for her accomplished plein air and studio paintings of the Grand Canyon, Western landscapes, and, most notably, cloudscapes, will be giving a painting demonstration and talk on Friday, Oct. 30, from 4-6 p.m. at Mountain Trails Gallery located in beautiful Tlaquepaque in Sedona.  
In addition to painting for exhibitions, galleries, and museum shows, Gooch passionately teaches others to paint.  
She speaks about the "spark of color" in cloud painting, one of her favorite subjects to paint, "It's those clouds that are ever-changing, evolving and become the focus on the canvas of a skyscape painter. Our minds tell us white clouds, but the creative side of us can begin to see the color and germinate an awareness of how much color is really up there.  More color, less pure white. What you think is pure white actually has color mixed into it, such as an orange, red, or yellow."  
This award-winning artist just completed a major one-person exhibition "Intertwined with Living Waters" at the Hockaday Museum of Art in Kalispell, Montana.  
Painting this exhibition was very personal to this artist as she directed many of her paintings toward water, as she says, "the Earth's most valuable asset."  
"My intent is to express the life-giving force that nourishes the earth as it spreads across the land. There is a deeper spiritual meaning to me which pertains to my faith, but on the surface level, water can have a calming and peaceful effect to humankind.  On the creative side, it's just beautiful and inspiring to paint."
Mountain Trails Gallery is proud of Sedona being a premier center for the arts and is also proud to present this event to give their community of collectors as well as artists a process-oriented demonstration and talk, and to share this busy artist's techniques and ideas with the public.
As Linda Glover Gooch encourages all those interested, "Get out the color and paint those beautiful skies, sunsets, and monumental clouds we all love and are captivated by!!"  
Linda Glover Gooch has been represented by Mountain Trails Gallery for many years and will have representative paintings on hand for viewers to experience in person.  
The gallery is located at 336 S.R. 179, upstairs, Suite A201, overlooking the Patio de las Campanas in Tlaquepaque Arts and Crafts Village in Sedona. www.mountaintrailssedona.com  (928) 282-3225.  Demo & Talk Friday, Oct. 30, 4-6 p.m.