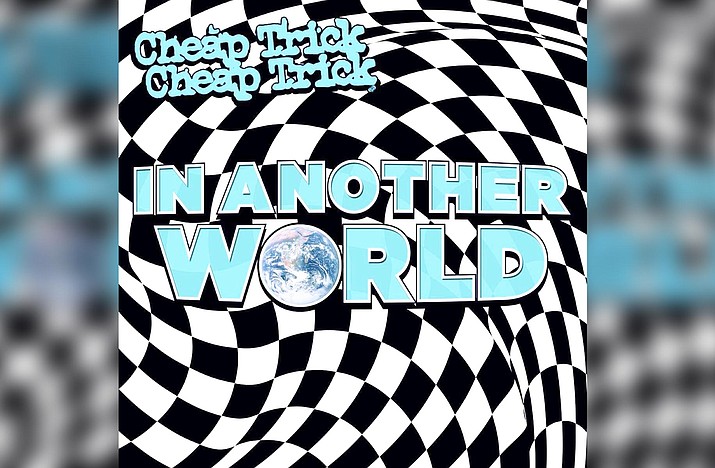 ---
---
Cheap Trick – In Another World
BMG Rights Management (US) LLC
In Another World is the upcoming 20th studio album by Cheap Trick.
The album's first single, "The Summer Looks Good on You," was released on May 18, 2018.
The album was initially due for release at the end of 2018, though no release date was announced and the album was ultimately not released that year.
The second single, a cover of John Lennon's "Gimme Some Truth," was released on November 29, 2019.
The album was completed by 2020 but the release was further delayed due to the COVID-19 pandemic.
On January 28, 2021, a third single, "Light Up the Fire," was released alongside an announcement of the album's title, tracklist, and the April 9 release date.
Formed in 1973, Cheap Trick was inducted into the Rock and Roll Hall of Fame in 2016.
Tracks include: The Summer Looks Good on You, Quit Waking Me Up, "Another World, Boys & Girls & Rock N Roll, The Party, Final Days, So It Goes, Light Up the Fire, Passing Through, Here's Looking at You, Another World (Reprise), I'll See You Again, Gimme Some Truth.
The End Machine – Phase2
Frontiers Music SRL
The End Machine are back with the band's second album, "Phase2," which follows on the heels of its well-received and successful self-titled debut album released in 2018.
Features former classic lineup Dokken members George Lynch and Jeff Pilson with the awesome singer Robert Mason (Warrant, Lynch Mob) on lead vocals. Classic Dokken drummer Mick Brown handled drums on the first album, but is now retired, so in his place behind the drum kit is none other than his brother Steve Brown. Lynch is best known for his work with heavy metal band Dokken and his post-Dokken solo band, Lynch Mob.
Lynch is considered to be one of the most influential and famous 1980s metal guitarists, known for his unique playing style and sound.
Lynch has cited Jimi Hendrix, Randy Rhoads, Jeff Beck, Michael Schenker and Eddie Van Halen among his musical influences.
Tracks include: The Rising, Blood and Money, We Walk Alone, Dark Divide, Crack the Sky, Prison or Paradise, Plastic Heroes, Scars, Shine Your Light, Devil's Playground, Born of Fire, Destiny.
Sweet Oblivion feat. Geoff Tate – Relentless
Frontiers Music SRL
Second album from Sweet Oblivion, the project centered around former Queensrÿche vocalist Geoff Tate.
Aldo Lonobile (Secret Sphere, Archon Angel, Timo Tolkki's Avalon) oversees production and is joined by a stellar cast of Italian musicians.
Sonically, as with the debut, this album sees Geoff singing songs reminiscent of the classic Queensrÿche era. Tate rose to fame with the progressive metal band Queensrÿche, who had commercial success with their 1988 album Operation: Mindcrime and 1990 album Empire.
Tate is ranked 14th on Hit Parader's list of the 100 Greatest Metal Vocalists of All Time. He was voted No. 2 on That Metal Show's top 5 hard rock vocalists of the 1980s. In 2012, he won the Vegas Rocks! Magazine Music Award for "Voice in Progressive Heavy Metal."
In 2015, he placed ninth on OC Weekly's list of the 10 Best High-Pitched Metal Singers. After his farewell tour as Queensrÿche, he renamed his band Operation: Mindcrime.
Tracks include: Once Again One Sin, Strong Pressure, Let It Be, Another Change, Wake up Call, Remember Me.
Primal Fear – I Will Be Gone (EP)
Nuclear Blast America Records
Primal Fear's ferocious new record "Metal Commando" has been an undisputed highlight of 2020.
The German power metal band's 13th full length detonated in the midst of a raging pandemic, leaving no stone unturned in it's path.
Right now however, they want to show us something new, a different side to them - after releasing a string of heavy and hard-hitting singles from "Metal Commando," mastermind Mat Sinner and vocal force Ralf Scheepers have something extraordinary up their sleeves; a 5-track single, built around an exclusive new rendition of their achingly beautiful ballad 'I Will Be Gone', re-recorded with none other than Finnish metal diva extraordinaire, Tarja Turunen.
The song, fragile and touching, gets an altogether new and deeply melancholic vibe with Tarja's unbelievably emotional performance, showcasing a different facet of Primal Fear. Much more than just another off shoot of a successful album.
Album contains explicit lyrics.
Tracks include: I Will Be Gone, Vote of No Confidence, Rising Fear, Leave Me Alone, Second to None.
The Treatment – Waiting For Good Luck
Frontiers Music SRL
Waiting For Good Luck" is the fifth album from British hard rockers The Treatment. Showcasing an intense sonic power only hinted at thus far, The Treatment is truly firing on all cylinders now.
Hulking riffs and memorable choruses are the order of the day here. Produced by UK rock maestro Laurie Mansworth (Airrace) and mixed by Kevin Shirley (Iron Maiden, Led Zeppelin, Black Country Communion, etc.).
The Treatment formed in Cambridge, England, in 2008. In 2011 the band played at Sonisphere Festival on the Jägermeister stage. Later in 2011, a UK tour arranged by the Powerage record label featured The Treatment, alongside New Device, Lethargy and Million Dollar Reload.
After the Medication For The Nation Tour in the United Kingdom in December 2011 the band went on tour in support of Alice Cooper and Thin Lizzy.
Tracks include: Rat Race, Take It or Leave It, Lightning in a Bottle, Vampress, Eyes on You, No Way Home, Devil in the Detail, Tough Kid, Hold Fire, Barman, Let's Make Money, Wrong Way, Barman (Piano Version - Bonus Track).