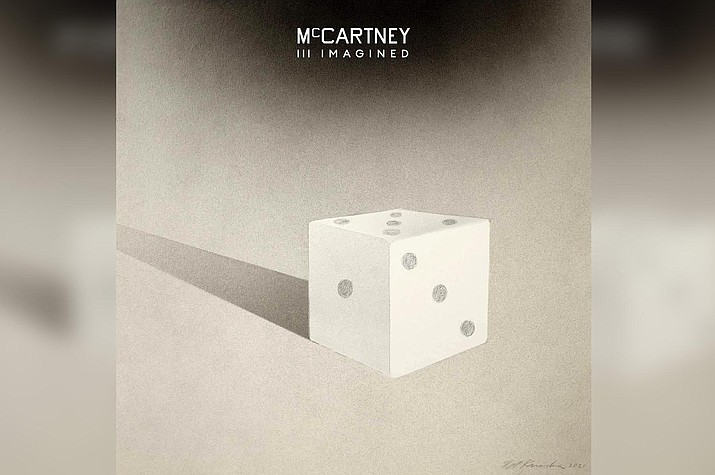 ---
---
Paul McCartney – McCartney III Imagined
Capitol Records
Hailed upon its release last year as "vital and comfortable taking new chances" (Rolling Stone), Paul McCartney's McCartney III is moving into the future with McCartney III Imagined. Curated by Paul, it features an A-list assortment of friends reimagining their favorite McCartney III moments.
The result is a kaleidoscopic reinterpretation that serves as an extension of the original album while standing on its own in his discography. four-panel, two-pocket softpak CD w/ six-panel poster.
McCartney is a singer, songwriter, musician, and record and film producer who gained worldwide fame as co-lead vocalist and bassist for the Beatles. His songwriting partnership with John Lennon remains the most successful in history.
After the group disbanded in 1970, he pursued a solo career and formed the band Wings with his first wife, Linda, and Denny Laine. A self-taught musician, McCartney is proficient on bass, guitar, keyboards, and drums.
Tracks include: Find My Way, The Kiss of Venus, Pretty Boys.
Greta Van Fleet – The Battle At Garden's Gate
Lava Music
After three years, one-million concert tickets sold across five continents, four consecutive #1 singles, a GRAMMY Award, and performances on "The Tonight Show" and "Saturday Night Live," Greta Van Fleet is hurtling into the future with its second album, The Battle at Garden's Gate.
Greta Van Fleet is an American rock band from Frankenmuth, Michigan, formed in 2012. The band consists of Kiszka brothers Josh (vocals), Jake (guitar) and Sam (bass guitar); and Danny Wagner (drums).
Their debut full-length studio album, Anthem of the Peaceful Army, was released in 2018, and topped the Billboard Rock Album charts in the first week after its release.
The album's first single, "When the Curtain Falls", was released ahead of it in July 2018 and became the band's third number-one single on the U.S. Billboard Mainstream Rock charts.
Tracks include: Heat Above, My Way Soon, Broken Bells, Built by Nations, Age of Machine, Tears of Rain, Stardust Chords, Light My Love, Caravel, The Barbarians, Trip the Light Fantastic, The Weight of Dreams.
The Offspring – Let The Bad Times Roll
Concord Records
The legendary So-Cal punk group The Offspring return with their 10th album (and first new offering since 2008), the blistering and triumphant 'Let The Bad Times Roll.'
Produced by Bob Rock, the group describes the album as "the most cathartic thing we've done. The messages might be dark, but at the end what's left is that communication is important, working through feelings is important and most of all, hope is important."
The band's tour schedules, lineup changes, legal issues and the search for a new label after their split with Columbia Records, who released the Offspring's previous six albums, contributed to a years-long delay behind Let the Bad Times Roll.
The band started recording new material for the album with Rock as early as the summer of 2013, and after re-recording it at various studios and at various periods between 2014 and 2019, it had been completed by early 2020 and was ready for release later that year.
Album contains explicit lyrics.
Tracks include: This Is Not Utopia, Let the Bad Times Roll.
Levara – Levara
Mascot Records
Levara's union merged in Los Angeles. Singer Jules Galli emigrated from France, while drummer Josh Devine chose L.A. as home versus his native United Kingdom following success behind the kit with One Direction.
Levara is a three-piece rock band with some serious rock and roll resumes. Guitarist Trev Lukather is the son of Steve Lukather of Toto fame.
Every tune on the band's debut emanates from inspiration culled from their lives, and their mission is to rally the globe to connect and groove with the band.
These songs display a larger than life sound.
A realized vision.
Anthemic tunes written and recorded visualizing a mass audience becoming one with the body of work.
Integrating their personal voices to the live experience.
Or simply as a personal soundscape cruising the asphalt with the car stereo cranking.
Tracks include: Heaven Knows, Automatic, Ever Enough, On For The Night, Allow, Can't Get Over, Chameleon, Ordinary, Just A Man.
Armed – Ultapop
Sargent House Records
The Armed returned with their first new album in over three years and Sargent House debut, Ultrapop.
The album reaches the same extremities of sonic expression as the furthest depths of metal, noise, and otherwise "heavy" counterculture music subgenres but finds its foundation firmly in pop music and pop culture. As is always The Armed's mission, it seeks only to create the most intense experience possible, a magnification of all culture, beauty, and things.
Ultrapop follows their recent contribution to the Cyberpunk 2077 soundtrack 'Night City Aliens' and 2018's critically acclaimed album Only Love, which landed on 'Album of the Year' lists from The Atlantic, Pitchfork, Rolling Stone, Vice, Stereogum, and many more. The album was co-produced by the band's own Dan Greene in collaboration with Ben Chisholm (Chelsea Wolfe) and features contributions from Mark Lanegan, Troy Van Leeuwen (QOTSA, A Perfect Circle), Ben Koller (Converge, Mutoid Man) and more.
Album contains explicit lyrics.
Tracks include: Ultrapop, All Futures, A Life So Wonderful, Big Shell, Average Death, Faith in Medication.