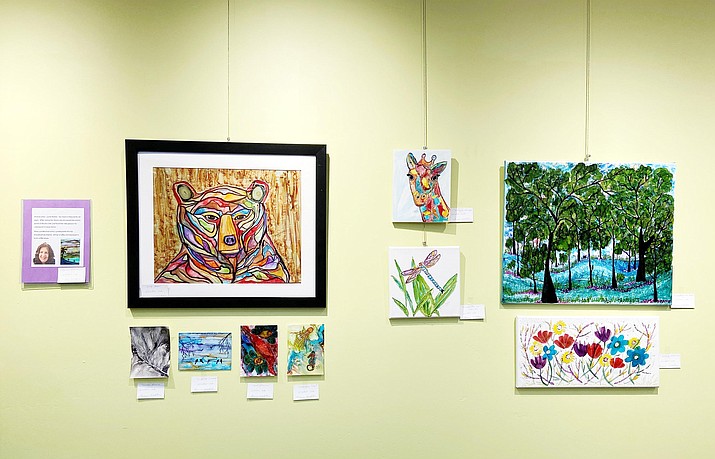 ---
---
After a six-week virtual class series on painting with alcohol inks, participants submitted some of their work to the Camp Verde Library's art display.
Take a look at the pictures hanging on the wall, ceramic tiles, cards, and even an egg on the display shelf. Alcohol ink is known for its vibrant colors and organic images.
Items from the instructor, Lynne Kohler, will also be on display. Kohler is an Arizona artist who discovered alcohol ink painting after the age of 60 and fell in love with the bright colors and irrepressible qualities of the medium.
Kohler has focused on the themes of animals, flowers, birds, and nature and has recently begun to do human faces as well. Now a professional artist, her art sells on eBay.
Another local artist who contributed many pieces to the show is Clarkdale resident Becky Russell. Drawn to anything to do with texture and color in her art, Russell works in watercolors, landscape quilting, collages, and has now added alcohol ink to her repertoire. Russell's paintings on tile are especially beautiful.
Also, several students created abstract images on tile and poster board which they contributed to the art show. One student painted an egg and a piece of gourd.
Be sure to take a few minutes to enjoy all the creative ways the community applied alcohol ink. The show will be on display through the end of May.
Camp Verde Community Library is at 130 Black Bridge Road.