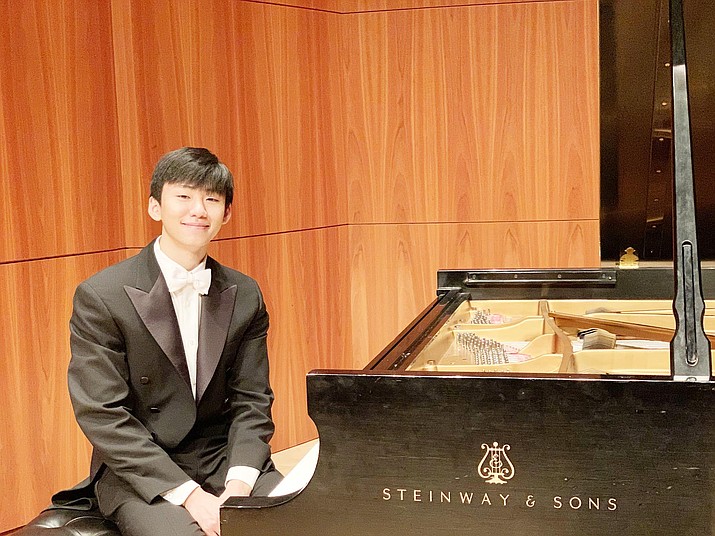 ---
---
Guest artist Samuel Xu will perform the Clara Schumann Piano Concerto with the Verde Valley Sinfonietta May 2 in the Sedona Performing Arts Center at 2:30 p.m.
Xu was one of the Sinfonietta's "emerging artists," soloing at the age of 14 in Gershwin's Rhapsody in Blue in 2015. A resident of Chandler, and currently a sophomore attending the Eastman School of Music, Xu received a call only recently from Sinfonietta Maestro Kevin Kozacek asking him to substitute for the Sinfonietta's previously engaged soloist, Kathryn Mientka-Farruggi, who withdrew for personal reasons.
Xu is a versatile performer, playing both classics and contemporary works with artistry that belies his age. He began studying piano with his mother at age 6, continued with his father at age 11, and is currently under the instruction of Alan Chow.
Xu won several regional prizes including first place in the Arizona Young Artist Piano Competition, the Steinway Avanti Star Piano Competition, and the Arizona Musicfest Youth Piano Competition.

He was also the winner of the 2015 International Institute for Young Musicians Piano Competition. Samuel performed with the MusicaNova Orchestra in 2016 (Gershwin's Piano Concerto in F Major), and the Arizona Musicfest Festival Orchestra in 2020 (Rachmaninoff's Fourth Piano Concerto).
He was a Chopin National Foundation of America scholarship recipient for four consecutive years from 2016-2020.
The program will begin with Mozart's poignant Overture to Don Giovanni, arguably his greatest opera. The Clara Schumann Piano Concerto is one of the few compositions by her that receives its due in terms of performances in modern times.
As the wife of 19th c. composer Robert Schumann, and a touring piano virtuoso in her own right, she took a back seat to his career. Verde's Prelude to Act III of La Traviata, another gem for orchestra extracted from a popular opera, introduces the program's second half.
The final work, Schubert's "Unfinished" Symphony No. 8, concludes the program. The two movements of the work were written in 1825, toward the end of Schubert's life.
They remain among the most well-known and treasured parts of the orchestral repertoire.
Discounted tickets are available on the Sinfonietta website: VVSinfonietta.org. It is expected that concert-goers will wear face masks inside the hall and lobby areas.