Cornville author looks to help people find their peace with new book
Originally Published: August 17, 2021 2:58 p.m.
Cornville author Chris Duffy-Wentzel has a new book on Amazon, "Finding the Missing Peace, A Healing Journey to Wholeness," has a "universal appeal" for many people, especially those who are looking for peace and happiness independent of things going around them.
"After an unexpected diagnosis required me to question long-held beliefs that no longer served my highest good, I share openly the journey to forgive, re-invent myself and ultimately find self-acceptance," Duffy-Wentzel said. "It's a story that captures the reader's hearts and minds as they are taken on an adventure that includes inner-city Chicago, the Pentagon in D.C., India, Appalachia and beautiful Sedona for answers to life's biggest questions."
SYNOPSIS
"Finding the Missing Peace, A Healing Journey to Wholeness," is about a life-threatening diagnosis that began a race against time to unlock the secrets trapped within sealed adoption records. After three decades of failed attempts and closed doors using traditional search methods, something had to change. The diagnosis intensified the need to find a birth mother and family medical history. Time was running out.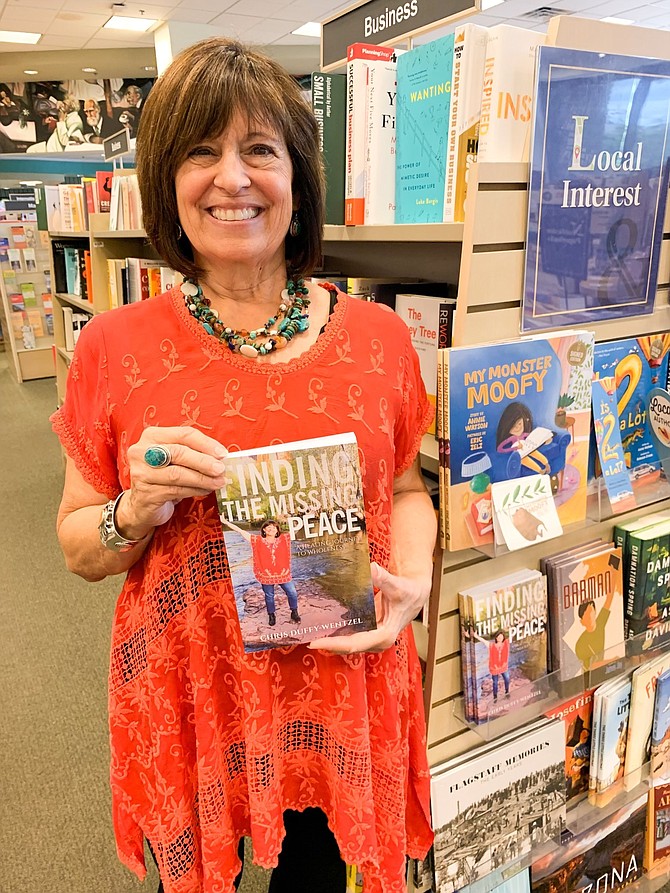 The book shares the process and resources that were used to embrace the idea that healing is not about fixing anything that's broken. It's about creating space for stillness, unlocking an inner guidance system, self-acceptance, and remembering the wholeness that is you.
PURCHASE
The book is available online by visiting https://www.amazon.com/Finding-Missing-Peace-Healing-Wholeness/dp/1641845406.
ABOUT THE AUTHOR
Duffy-Wentzel is a personal coach, author and speaker living in Cornville. Duffy-Wentzel is certified as a results coach through the Neuroleadership Institute and accredited by the International Coaching Federation. Her private practice focuses on wellness and helping individuals manage careers, relationships and life transitions.
Tapping into the creative healing energies of Sedona, Arizona, Chris is committed to assisting people create their own unique path to wholeness: body-mind-spirit.
For more information, please visit: kachinawoman.com.
A portion of the proceeds from book sales are offered to "Crossing Worlds Hopi Projects," a volunteer organization supporting Hopi sustainability, self-empowerment and providing cross-cultural learning opportunities.
To learn more about current projects, please visit: crossingworlds.org.
Information provided by the author, Chris Duffy-Wentzel.
---
SUBMIT FEEDBACK
Click Below to: