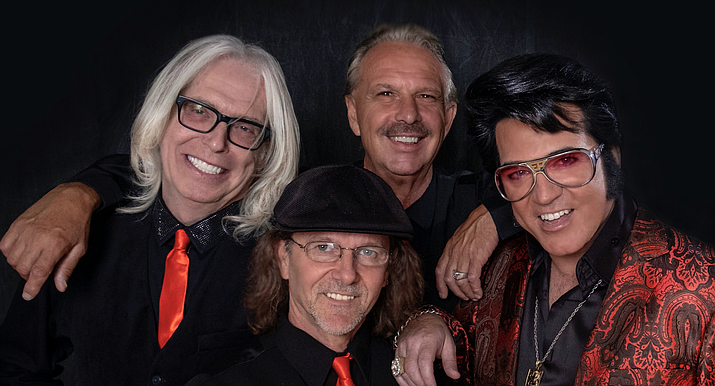 ---
---
Elvis fans will get their fill at Sound Bites Grill in Sedona on Saturday, Aug. 21, from 7 to 9 p.m. as tribute artist Chance Tinder and "Project Presley" are ready to rock, according to a news release.
Chance, as Elvis, transports us back into the past when Elvis was at his peak as "The King of Rock & Roll," so deep into his character that you would swear you are watching Elvis resurrected, alive and kicking, on the Sound Bites Celebrity Showroom stage.
A beautiful stage, a New York City supper club ambiance, state-of-the-arts lighting and a sound system that will knock your socks off blend to create the perfect setting for "Elvis" to sing all his hits from "That's Alright Mama" to "Suspicious Minds" and let's not forget the perennial "Hound Dog." 
Chance and his band have played numerous venues including stints in Scottsdale and Las Vegas.
They are known as one of the best Elvis tribute bands in the country, putting on a high-energy show that electrifies audiences.
The Project Presley group consists of David Fisher on guitar; Dave Hecker on piano; Jerry Grey on percussion; and Yorman Williams on bass.
"He doesn't just put on a performance. He puts on a show that glues people to their seats and then gets them up and dancing.
This is one show you don't want to miss," a news release stated.
Admission is only $20 for high top table seating. General seating show tickets are $30. A regular menu will be available. VIP seating show ticket is $45.
Limited seating is available. Please call 928-282-2713 for more information, purchase tickets. Or, visit Soundbitesgrill.com.
Sound Bites Grill is also featuring Wineaux Wednesday on Wednesday, Aug. 18, from 5 to 7 p.m.; Chill on the Hill on Thursday, Aug. 19, from 6 to 9 p.m.; and Michael Johnson & Friends on Friday, Aug. 20, from 7 to 10 p.m.
Sound Bites Grill is located at 101 N. State Route 89A, Sedona.
Information provided by Sound Bites Grill.