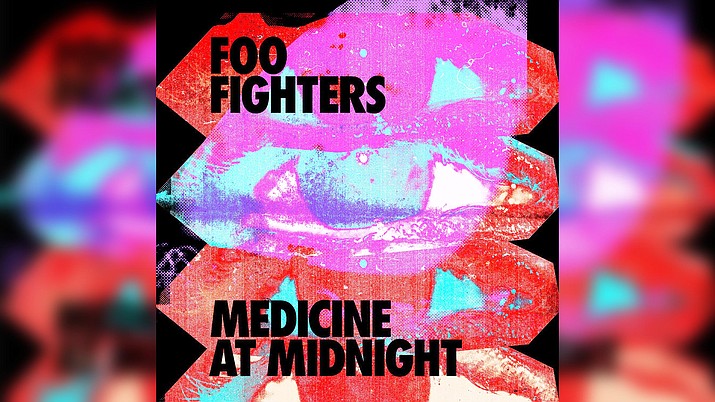 ---
---
Foo Fighters – Medicine At Midnight
RCA Records
Medicine at Midnight is the new album from Foo Fighters, and packs nine new songs into 37 minutes.
This collection includes the smoldering new single, "Shame Shame." Medicine at Midnight is produced by Greg Kurstin and Foo Fighters, and is the band's 10th album. Foo Fighters are Dave Grohl, Taylor Hawkins, Nate Mendel, Chris Shiflett, Pat Smear, and Rami Jaffee.
Foo Fighters was founded by former Nirvana drummer Dave Grohl as a one-man project following the dissolution of Nirvana after the suicide of Kurt Cobain.
Before the release of Foo Fighters' 1995 debut album Foo Fighters, which featured Grohl as the only official member, Grohl recruited bassist Nate Mendel and drummer William Goldsmith, both formerly of Sunny Day Real Estate, as well as Nirvana touring guitarist Pat Smear.
Goldsmith quit during the recording of their second album. Smear departed soon afterward, but appeared as a guest with the band frequently from 2006, and rejoined in 2011.
Tracks include: Making A Fire, Shame Shame, Cloudspotter, Waiting On A War, Medicine At Midnight, No Son Of Mine.
Todd La Torre – Rejoice In The Suffering
Rat Pak Records
As global touring came to a sudden and unexpected halt earlier this year, Queensrÿche frontman Todd La Torre has been using his recent pandemic downtime to put the finishing touches on his debut solo album Rejoice In The Suffering.
The idea for a solo album was always in the cards for Todd.
With Queensrÿche tour dates postponed indefinitely, the world events offered Todd the opportunity to explore his ideas for Rejoice In The Suffering.
Todd teamed up with longtime friend and collaborator Craig Blackwell and alongside producer Chris "Zeuss" Harris created a diverse heavy metal album that draws influence from different styles.
These styles will surprise fans who only know La Torre from his previous work with Queensrÿche or Crimson Glory before that.
The deluxe version of the album features three bonus tracks, including 'Set it Off.'
Tracks include: Dogmata, Pretenders, Hellbound and Down, Darkened Majesty, Crossroads to Insanity, Critical Cynic, Rejoice in the Suffering, Vexed, Vanguards of the Dawn Wall, Apology, Fractured, Set it Off, One by One.
The Prog Collective – Worlds On Hold
Purple Pyramid Records
The prog rock supergroup spearheaded by much heralded producer/musician Billy Sherwood returns with a timely and magnificent new studio album.
Features a star-studded cast with Todd Rundgren, former Queensrÿche vocalist Geoff Tate, Focus's Jan Akkerman, Ayreon mastermind Arjen Anthony Lucassen, The Flower Kings' Roine Stolt as well as Derek Sherinian, Steve Hillage, Joe Lynn Turner.
This is the first release under The Prog Collective moniker since 2013's epic Epilogue. The album is split between new compositions and spectacular versions of familiar classics such as Peter Gabriel's "Solsbury Hill," Alan Parson's Project's "Eye In The Sky." Includes three previously released bonus tracks of Billy Sherwood produced cover versions. Available on both CD and limited edition green vinyl in a gatefold jacket.
Tracks include: Worlds On Hold, Two Trajectories, Anything but Goodbye, Meant to Be, Brake New World, Glory Days Ahead, Solsbury Hill, A Whiter Shade of Pale, Eye in the Sky, Nights in White Satin, Penny Lane, More Than A Feeling, People Are Strange.