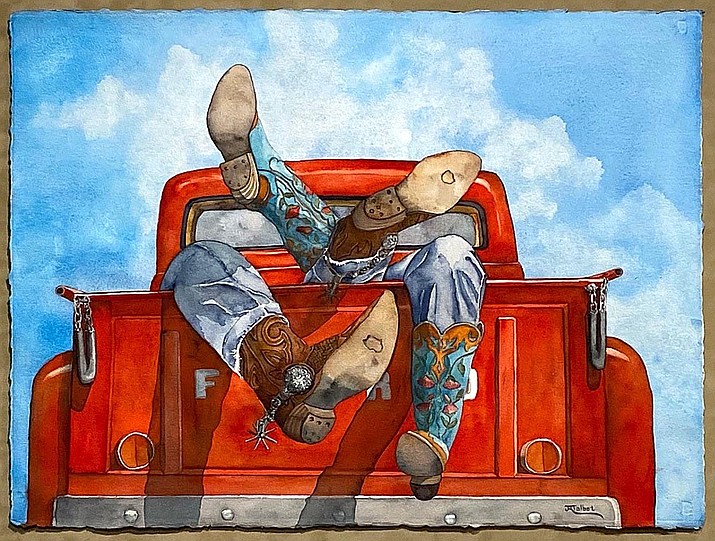 ---
---
The Sedona Arts Center represents more than 100 professional local and regional artists. The Fine Art Gallery on campus is a dynamic, ever-changing display of juried local and regional talent in all dimensions and forms.
Part of what makes the gallery dynamic is the bi-monthly featured artists program, currently featuring a diverse group of artists that specialize in ceramics, jewelry, painting and fiber work.
Sedona Arts Center also offers curbside pickup and online shopping.
About the featured artists 
Julie Ronning Talbot 
From rust to roses, Talbot enjoys depicting weathered surfaces and flower petals to an equal degree. She enjoys dropping watercolor onto paper or dyes onto silk and watching the vibrant colors blend together. 
Talbot evokes the romantic realism of the beauty around us by starting with a careful drawing, analyzing the structure of the subject, then adding veils of color. 
John Foster
John changed his artistic medium to clay in 2011 by starting classes at the Sedona Arts Center. He is fortunate enough to be able to work out of his private studio in Sedona, where he is fine-tuning the creative process with his love of the potter's wheel.
John creates magnificent decorative Raku work along with beautiful usable ceramic pieces.
This will be John's final show before he is off on an adventure of a lifetime traveling the United States and beyond. Grab one of his pieces while you can! 
Joan Roberts
Joan Roberts is usually connected to her jewelry in fine silver and gold. However, over time she has expressed herself and her environment through several different mediums.
She recently became excited about fiber arts – specifically nuno (wet) felting. She uses merino wool, silk and recycled material to create scarves, pins and whatever else comes off her table. 
Each colorful piece is unique in design. 
Nancy Black
Nancy enjoys knitting and weaving with a lot of color. Most of her pieces are vibrant accents to the wearer's wardrobe and are meant to be the statement piece to an outfit.
She is also a spinner of various fibers from wool to silk which she sometimes incorporates into her pieces. After retiring from the hectic business world, Nancy found spinning yarn and knitting relaxing and rewarding hobbies. Recently she has learned to weave. 
Over time, she has learned from many knit-wear designers how to create beautiful pieces that hopefully will appeal to others.
Christine Debrosky 
A soft infusion of light is what sets the work of Christine Debrosky apart. Christine's paintings are informed by the interplay of light and shadow, whether it is the moody drama of a monsoon sky, the brilliant sparkle of a rare desert snowfall, or the famous red rock glow.
Sharing the beauty of our surroundings has always been a driving force and inspiration. Although we are amongst the spectacular high desert beauty of Sedona, it is often the simple things that catch her eye, such as a lone juniper, or the red dust at her feet on a hike ... all transformed with the ever-changing dance of sunlight.
Take a breath ... pause, and enjoy the wonder.
Chikako Myers 
Chikako Myers offers a beautiful variety of jewelry at the Sedona Arts Center including fused dichroic glass work and metalwork. She has the perfect pieces for everyday wear or if you're looking to brighten up your wardrobe with something colorful and flashy.
Swing by the Sedona Arts Center gallery to try on her new rings, cuffs, and much more.
The Fine Art Gallery is open Wednesdays through Sundays from 10 a.m. to 5 p.m. 
Founded in 1958, the nonprofit 501(c)3 organization is based at the Art Barn in Uptown and offers year-round classes, exhibitions, festivals, and cultural events that enhance the creative life of the Verde Valley.
The Center's Fine Art Gallery promotes the original works of over 100 local artists and regularly offers special assistance for collectors and art buyers, offers private studio visits, and fosters hundreds of arts education opportunities each year.