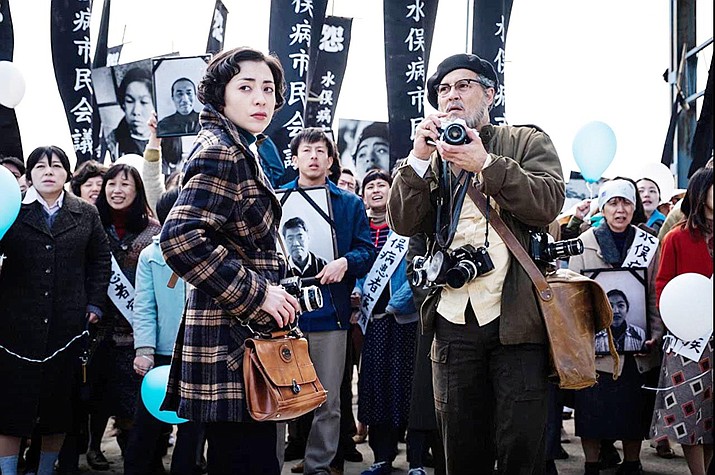 ---
---
Minamata
American International Pictures
Director: Andrew Levitas
Writers: David Kessler, Andrew Levitas
Producers: Johnny Depp, Bill Johnson, Gabrielle Tana, et. al.
Cast: Johnny Depp, Bill Nighy, Hiroyuki Sanada, Lily Robinson, Katherine Jenkins, Akiko Iwase, Minami, Ryô Kase, et. al.
Minamata is based on the book of the same name by Aileen Mioko Smith and Eugene Smith. The film stars Johnny Depp as Smith, an American photographer who documented the effects of mercury poisoning on the citizens of Minamata, Kumamoto, Japan.
Rated R for language throughout.
Little Fish
IFC Films
Director: Chad Hartigan
Writers: Aja Gabel, Mattson Tomlin
Producers: Lia Buman, Rian Cahill, Brian Kavanaugh-Jones, et al.
Cast: Olivia Cooke, Jack O'Connell, Soko, Heather Decksheimer, Natalie Farrow, Morgana Wyllie, Monique Phillips, Mackenzie Cardwell, et. al.
A couple fights to hold its relationship together as a memory loss virus spreads and threatens to erase the history of their love and courtship.
Little Fish was scheduled to have its world premiere at the Tribeca Film Festival on April 17, 2020, but the festival was postponed due to the COVID-19 pandemic.
Two of Us
Magnolia Pictures
Director: Filippo Meneghetti
Writers: Malysone Bovorasmy, Filippo Meneghetti
Producers: Laurent Baujard, Pierre-Emmanuel Fleurantin, et al.
Cast: Barbara Sukowa, Martine Chevallier, Léa Drucker, Eugénie Anselin, Hervé Sogne, et. al.
Nina and Madeleine, two retired women, are secretly deeply in love for decades.
From everybody's point of view, including Madeleine's family, they are simply neighbors living on the top floor of their building.
Cinderella
Sony Pictures Entertainment
Director: Kay Cannon
Writer: Kay Cannon
Producers: Shannon McIntosh, James Corden, Jonathan Kadin, Leo Pearlman, Louise Rosner, et al.
Cast: Camila Cabello, Billy Porter, Nicholas Galitzine, et. al.
A modern musical version of the classic fairy tale "Cinderella" as a poor, ambitious orphan gets her wish granted to meet a prince.