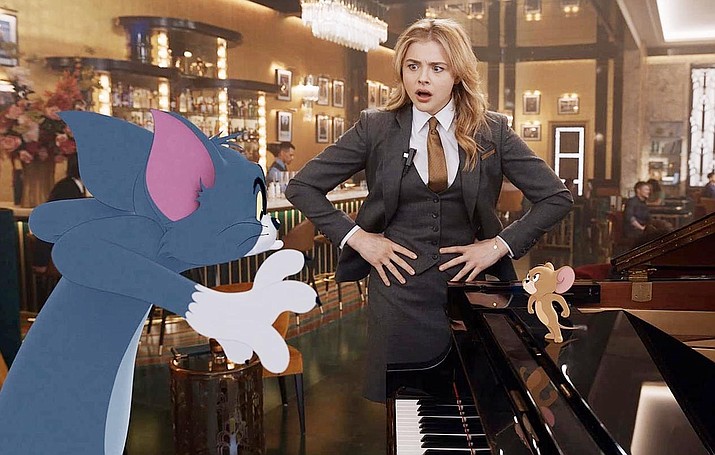 ---
---
Tom and Jerry
Warner Bros.
Director: Tim Story
Writers: Kevin Costello, William Hanna
Producers: Christopher DeFaria, Allison Abbate, Tim Story, et al.
Cast: Chloë Grace Moretz, Michael Peña, Rob Delaney, Pallavi Sharda, Leandra Ryan, et. al.
Tom & Jerry is a live-action/computer-animated slapstick comedy film based on the characters of the same name created by William Hanna and Joseph Barbera.
Tom gets kicked out by his owners along with his longtime rival Jerry, who has now been left without a source of food.
Now homeless, the cat and mouse duo are left wandering in the streets and decide to call a truce to their rivalry then go their separate ways to have a fresh start in their lives.
The two later cross paths in Manhattan, NYC, where Jerry has taken up residence in the city's largest, exquisite and finest hotel, causing all sorts of trouble while the staff is preparing for the wedding of the century between Ben and Preeta.
Kayla, a young, newly employed staff member, is tasked by the hotel manager Mr. DuBros with planning the event and getting rid of Jerry.
Rated PG for cartoon violence, rude humor and brief language.
The Vigil
IFC Midnight
Director: Keith Thomas
Writer: Keith Thomas
Producers: J.D. Lifshitz, et. al.
Cast: Dave Davis, Menashe Lustig, Malky Goldman, et. al.
In the Hasidic community of Boro Park, Brooklyn, a despondent young man short on both faith and funds reluctantly agrees to assume the responsibility of an overnight shimmer.
The man is also expected to fulfill the Jewish practice of watching over the body of a deceased member of the Orthodox community.
With only the company of the recently departed and an ailing widow who expresses cryptic reservations as to the man's ability to carry out the task, he soon finds himself exposed to a terrifying haunting within the claustrophobic confines of a home that has become host to a malevolent entity.
In what is essentially a one-man show, Dave Davis is profoundly affecting in his portrayal of the hesitant sentinel, exuding an empathetic combination of frayed nerves and timid weariness.
Throughout this uncanny night, his vigil gradually transforms into a harrowing spiritual investigation of both his cursed surroundings and his pitiable past - a journey in which the very recesses of his community's collective trauma
Rated PG-13 for terror, some disturbing/violent images, thematic elements and brief strong language.
The Killing of Two Lovers
Neon
Director: Robert Machoian
Writer: Robert Machoian
Producers: Melia Leidenthal, Scott Christopherson, et. al.
Cast: Chris Coy, Clayne Crawford, Arri Graham, Sepideh Moafi, et. al.
David desperately tries to keep his family of six together during a separation from his wife.
They both agree to see other people but David struggles to grapple with his wife's new relationship.
Rated R for language.
The Father
Sony Pictures Classics
Director: Florian Zeller
Writers: Christopher Hampton, Florian Zeller
Producers: Simon Friend, et. al.
Cast: Anthony Hopkins, Olivia Colman, Mark Gatiss, et. al.
A man refuses all assistance from his daughter as he ages.
As he tries to make sense of his changing circumstances, he begins to doubt his loved ones.
He also doubts his own mind and even the fabric of his reality.
Rated PG-13 for some strong language, and thematic material.