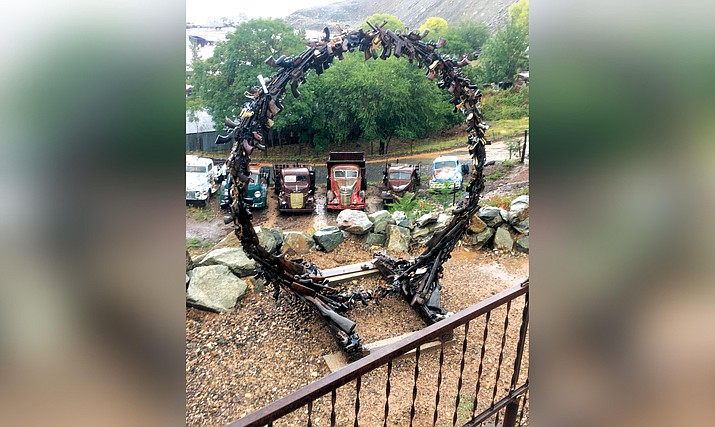 ---
---
The Ring of Fire is the latest addition to Don Robertson's quirky gold mine of unusual metal attractions at the Gold King Mine and Ghost Town.
Not that Big Bertha isn't enough to draw tourists from far away as Europe. Bertha is a huge sound-cannon-firing, backup-generator from the Bagdad mine.
Of course, the main reason to visit the Gold King Mine is to witness the trucks, tractors, cars and buses scattered around the property which were dragged to Jerome by Robinson, who is now peacefully resting in a race car in the sky.
But don't be fooled. Some of the approximately 100 vintage vehicles on the property are very "rare." Some are restored, but many are rusted and have been saved from extinction. They are getting a second chance at life.
Unfortunately, Robertson passed away in 2016. Jeannie Leffew, Robertson's stepdaughter took over the Gold King Mine with her husband, Mike, and will continue it as a tribute to Don and her mother Terry Robertson.

Jeannie and Mike are working to rebuild the many machines Robertson brought to Jerome, but are also bringing new attractions and upgrading the property.
Helping them is Steve Ploof who worked with Robertson for years.
Ploof said Mike discovered the Ring of Fire in a similar way that Don used to find his old vehicles.
Mike was picking up a truck in West Virginia and saw his strange object out of the corner of his eye.
In the 1950s, a police department filled up its evidence room with old guns used in crimes and had to dispose of them. A gentleman bought them and welded them all together in a seven-foot-tall ring so they could never be used again. Some of the guns are quite valuable, Ploof said.
In addition, the Gold Mine is adding a new attraction: a stamp mill from 1894 that was used to crush silver, copper and gold.
Don had it for years, but they are rebuilding it with a diesel engine. They will crush ore in it and visitors will be able to sift through screens to look through the chunks of locally-found ore for silver, copper and gold.
Thirdly, the mine is building a gold panning display table for visitors to sift sand in water with pans. "It teaches you technique," Ploof said.
Returning visitors will be glad to know the popular 42-inch saw-blade attached to a 1914 Witte 30-horsepower industrial gas engine that cuts lumber for planks is still operating.

From the sky, Robertson's ghost town looks like a child's playground with hundreds of tiny toy trucks scattered among miniature buildings in a sandlot.
Most are International trucks, Fords and Studebakers that date back to 1902.
The Gold King Mine was once a mining camp called Haynes and the population was 30 in 1901, but Don Robertson had a dream for it when he bought it his wife, Terry, over 30 years ago.
The gold has run out of the 1890s mine and it is now closed. You can still visit the entrance of the 1,270-foot mine shaft. Its located one-mile north of the historic mining town of Jerome with a population of about 450 people.
Robertson's business started out with one building -- a boarding house used by miners -- and a love for engines and trucks. Robertson built his dream with two bare hands, monkey wrenches and elbow grease.
Visitors are now flocking from all around the country and Europe to see Jerome's Robertson's carriages.
Robertson's grandson, Garret Leffew, said they finally got Big Bertha working again and they were excited that they were keeping up his grandfather's legacy.
"She was a backup generator at a Bagdad mine, and in 1990 my grandpa brought her up." "Most of everything on this property runs, and it runs really good," he adds.
Leffew explained that when he puts Big Bertha on compression release, gives it fuel, the exhaust coming off the pipes causes the thunder sound. This makes the mine's most popular attraction shoot flames and backfire, thrilling onlookers.
The family is working hard on other exhibits that will fit in with the mining history at the Jerome attraction, Leffew said.
"It feels real good. We're definitely keeping his dream alive," Leffew said. "A lot of his equipment is from America's history of simple ethics of working hard and the simplicity of hard labor."
Visitors range from tourists, local residents, schoolchildren on school trips to groups of motorcyclists and gear heads. Robertson also hosts a successful Volkswagen bus-gathering each year in his parking lot and has had rock festivals there.
Quite a few people have gotten married on the property because of the beautiful views of Sedona in the background, Don Robertson once told the Verde Independent in an interview.
"Some of them are quite valuable," said Robertson referring to his vehicles. "I don't collect the common stuff. I try to collect the ones everyone else don't have."