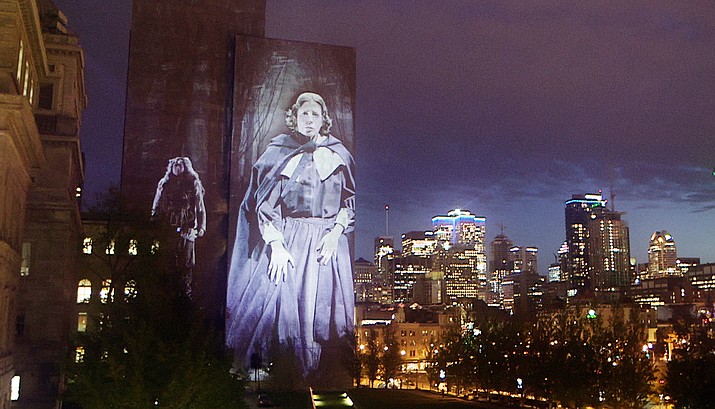 ---
---
The Sedona International Film Festival presents the Northern Arizona premiere of "Into the Light" Monday, Aug. 2 at 4, and 7 p.m. at the Mary D. Fisher Theatre.
An expansion of the festival's Art on Screen series, "Into the Light" offers a visually stunning cinematic experience from the streets and buildings of Old Montreal.
Every night the 300-year-old walls of Old Montreal come alive, illuminated canvases using the city as a backdrop. Real historical characters emerge from the darkness into the light, compelling us to engage with them, and experience their impact on Canadian history.
The Cité Mémoire projections are the largest permanent installation in the world. Like Virtual Reality without the glasses, these cinematic stories emerge from the walls, trees, and cobblestones of Old Montreal, transmitted by multiple 30K laser projectors, hidden in the roofs and walls of the buildings.
Creative directors Michel Lemieux and Victor Pilon have earned international reputations for three decades, pushing the boundaries of art and technology as they find new ways to immerse audiences in urban, multimedia, experiences.
Together with acclaimed writer Michel Marc Bouchard, they have transported over a million spectators with their projected characters that "whisper" from within the walls.
"Into the Light" with Cité Mémoire takes us behind the scenes for a rare opportunity to witness the creative process for the projections. We see how an underwater dancer shot in a swimming pool is transformed into Leonard Cohen's muse.
Suzanne soars 150 feet above the St. Lawrence River in a stunning projection on the landmark clock tower. A real horse pulling a hearse and over a hundred mourners, walk across a green screen in the funeral of Joe Beef, a beloved tavern owner who fed the poor in Montreal in the 1800s. Circus performers balance pianos and mattresses on the set injecting humor into the story of great Canadian hockey player Rocket Richard as he scores five goals on moving day.
The film shows how the Cité Mémoire projections explore themes of race, poverty and universal human stories, which have even more resonance in times of a pandemic. We discover how the $20 million project, because of its unique ability to emotionally connect with a diverse audience, has become a template for cities around the world to reboot their history through sophisticated technology and interactive art.
The film, through aerial drone shots, immerses us as we fly over the city and up close to the projections some 20 stories high, inviting us on a virtual road trip to a magical place.
"Into the Light" will be shown at the Mary D. Fisher Theatre on Monday, Aug. 2 at 4 and 7 p.m.Tickets are $12, or $9 for Film Festival members.For tickets and more information, please call 928-282-1177.
Both the theatre and film festival office are located at 2030 W. Hwy. 89A, in West Sedona. For more information, visit: SedonaFilmFestival.org.