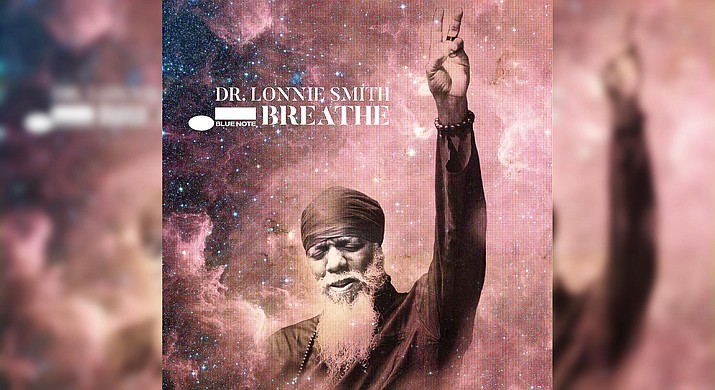 ---
---
Dr. Lonnie Smith – Breathe
Blue Note Records
On this night the good doctor took the stage with an expanded line-up featuring Jonathan Kreisberg on guitar, Johnathan Blake on drums, John Ellis on tenor saxophone, Jason Marshall on baritone saxophone, Sean Jones on trumpet, and Robin Eubanks on trombone with special guest vocalist Alicia Olatuja on "Pilgrimage."
Two additional studio tracks open and close the album, presenting the unique collaboration between Doc & Iggy Pop including a sublime cover of Donovan's 1966 hit "Sunshine Superman."
Lonnie Smith, styled Dr. Lonnie Smith, is an American jazz Hammond B3 organist who was a member of the George Benson quartet in the 1960s. He recorded albums with saxophonist Lou Donaldson for Blue Note before being signed as a solo act. He owns the label Pilgrimage. He was part of several vocal ensembles in the 1950s, including the Teen Kings which included Grover Washington Jr., on sax and his brother Daryl on drums.
Tracks include: Why Can't We Live Together, Bright Eyes, Too Damn Hot, World Weeps, Sunshine Superman, Epistrophy.
Ben Howard – Collections From The Whiteout
Republic Records
Ben Howard returns with his fourth album, "Collections From The Whiteout," produced alongside Aaron Dessner.
The foreboding darkness that coated his second record, and thinly veiled its follow-up, isn't so evident on Collections.
Written from headlines scanned or news stories scrolled, he creates an aural scrapbook that reverberates with tape loops and guitar FXs.
An England puffed up into absurdity by political outrage and infighting all fed these songs.
Howard, whose music has drawn comparisons to Nick Drake and John Martyn, recorded 'Collections From The Whiteout' between New York (where Howard worked with Dessner at his Long Pond Studio), Paris, and the artist's native Devon. The finishing touches were made remotely, while the artist was hunkered down at his new home in Ibiza.
Tracks include: Follies Fixture, What A Day, Crowhurst's Meme, Finders Keepers, Far Out, Rookery, You Have Your Way, Sage That She Was Burning, Sorry Kid, Unfurling, Metaphysical Cantations, Make Arrangements, The Strange Last Flight Of Richard Russell, Buzzard.
Harry Nilsson – Nilsson Schmilsson
Mobile Fidelity Records
On "Nilsson Schmillson," the Brooklyn native Harry Nilsson's three-and-a-half octave range and beautiful phrasing come across with captivating depth, crystalline purity, and an emotional scope that stretches from tenderness to melodrama to sarcasm and beyond. His tremendous singing takes center stage in conjunction with eclectic arrangements that lend an organic cohesiveness the four-time Grammy-nominated record.
Providing a prime example of it's architect's breadth, exceptionally played organs, mellotrons, horns, strings, guitars, piano, and more paint daring soundscapes that on these reissues teem with color, texture, and detail.
Reference-level spatiality and separation contribute to full, 3-dimensional imaging and the ability to identify distinctive instruments (and their tones) in the mix. Anything lesser wouldn't befit the legend Rolling Stone proclaimed 'a crucial bridge between the baroque psychedelic pop of the late-'60s and the more personal singer-songwriter era of the '70s.'
Tracks include: Let The Good Times Roll, The Moonbeam Song, Early in the Morning, I'll Never Leave You, Coconut.