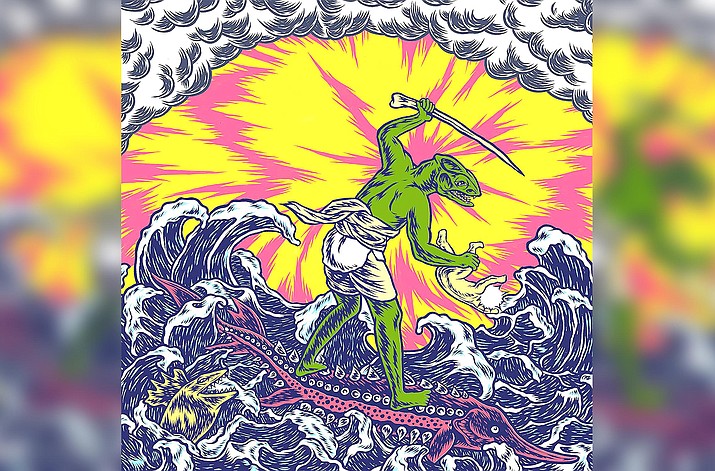 ---
---
King Gizzard and the Lizard Wizard – Teenage Gizzard
Org Music
Teenage Gizzard is a compilation album featuring early recordings of King Gizzard & the Lizard Wizard, recorded between 2010 and 2011 in Victoria, Australia.
Org Music is participating in the band's official bootlegger series to release the album on vinyl.
A portion of the proceeds from the release will be donated to Save Our Stages.
Pressed on transparent yellow with pink splatter colored vinyl, this edition is limited to just 600 copies worldwide.
Since the band's formation in 2010, King Gizzard & the Lizard Wizard, has released 17 studio albums, seven live albums, two compilations and two EPs.
The band consists of Stu Mackenzie, Ambrose Kenny-Smith, Cook Craig, Joey Walker, Lucas Harwood, and Michael Cavanagh.
The band's lyrics often have environmental themes. Topics include pollution, environmental degradation and climate change,
Tracks include: Hey There, Ants And Bats, Sleep, Summer!, Eddie Cousin, Fried.
Charlotte Lawrence – Charlotte
Atlantic Records
'Charlotte' is the 20-year old singer/songwriter Charlotte Lawrence's life story wrapped in a seven-song EP.
The lead single 'Talk You Down' is an addictive percussion-driven electronic pop number about her anxiety, which she's remarkably open about.
Throughout the EP, Lawrence explores fear and struggle through a relationship on 'Sin x Secret', a sense of feeling lost on 'Cowboys', aching heartbreak on 'Slow Motion', the perils of love on 'You', and addiction and dependence on 'RX'.
Born and raised in Los Angeles, Lawrence is the daughter of actress Christa Miller and television producer Bill Lawrence, and is the great-niece of actress Susan Saint James.
Lawrence is signed to IMG Models and has appeared in magazines such as Teen Vogue and Harper's Bazaar.
In March 2018, she featured on Kaskade's single "Cold as Stone".
In June 2018, she released her debut E.P. Young.
Album contains explicit lyrics.
Tracks include: Talk You Down, You, Sin x Secret, Slow Motion, Cowboys, Rx, Why Do You Love Me?
Mindi Abair – The Best Of Mindi Abair
Pretty Good for Girl Records
The Best of Mindi Abair is a 19-song collection of her biggest hits, previously unreleased gems, a few of Mindi's personal favorites, and her brand-new song "April."
It features a 16-page booklet of personal liner notes written by Mindi, and photos spanning her career drawn from her archive. Hits like "Lucy's," "Bloom" and "Come As You Are" appear as radio edits, available here for the first time, so you can listen as you originally fell in love with them on the radio.
"Make It Happen," written and recorded with legendary soul icon Booker T. Jones, has never been released until now.
Other inspired collaborations include "I'll Be Your Home" featuring Keb' Mo', "Just Say When" penned and recorded with Gregg Allman, and her woman-powered blues anthem "Pretty Good For A Girl" featuring guitar hero Joe Bonamassa.
Follow the arc of Mindi's unique musical journey with this collection featuring songs from 11 different albums, 28 stunning photos, and Mindi telling her story.
Tracks include: Flirt, I'll Be Your Home, Come As You Are, Seven Day Fool.