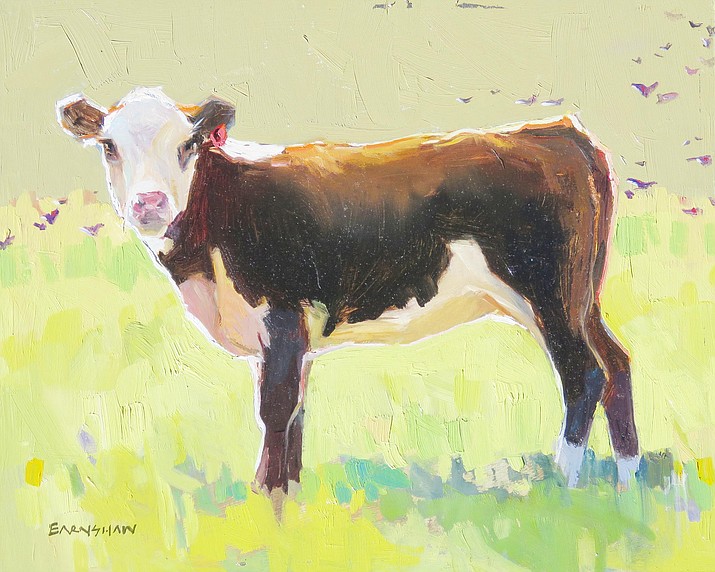 ---
---
Mountain Trails Gallery at Tlaquepaque in Sedona returns to its roots with a new exhibition "For the Love of Ranching," which opens on Friday, May 7, with a reception from 4 - 7 p.m.
Featured for the exhibition is detailed figurative sculpture by Arizona artist Curt Mattson. His "Boys Day Off" bronze honors the value of taking time for play.
"If you're a working cowboy," he says, "there is always something to do on the ranch. Time off is a rare premium. This cowboy is really looking forward to getting to his special spot in the country where the streams are brimming with trout. Here the cowboy can do a little fly fishing and his horse can graze the green grass. Both are very happy!"
"Cowgirl Melody," a colorful painting by Lisa Danielle, which exudes dreams of a beautiful and spirited life, brings a special kind of joy to the party. With her exquisitely tooled saddle, butter-colored padded seat, nickel horns, and silver conchos, this cowgirl is dreaming of a special night out! Another throwback to a refined cowgirl aesthetic is Lisa's painting "Indians for A Cowgirl" which includes a pair of intricate inlaid uppers with colorful toe cap boots that speaks to this cowgirl's aesthetic, "Never sacrifice style even when the dust can be overwhelming."
Deborah Copenhaver Fellows also pays her respect to the importance of spirited recreation and relaxation with her themed cowgirl "All Work and No Play" where the rancher is taking off her boots to try a pair of dancing shoes. Deborah also gives a nod to the simpler expressions of barn life with her endearing bronze "When the Roundup's Over." This sculpture captures that time when the spurs are idle, and a ranch kitten has found a convenient place to take a nap.
Both sculptures seem to give a sigh of relief that is often felt after a rancher's hard day's work.
Capturing the "never ending chores" of fence mending is Susan's Kliewer's heartfelt "Old Friends" which elicits recognition of the bond between the working dog and the rancher.
The cowboy knows so well the helpful eagerness of his canine friend, as the companionship of a shared task is appreciated by both. "The Puppy Wrangler" is full of the joy this litter of puppies can bring, as the little rancher knows he has a new crop of working dogs in the ranks.
Serendipitously, Susan's border collie "Poncho" came from this litter.
Coming from a long line of ranchers, Sarah Phippen always pays her respects to the land, the people, and the animals.
Granddaughter to George Phippen, one of the founders of the famed "Cowboy Artists of America" and the namesake of Prescott's Phippen Museum, Sarah knows the land and her animals well.
Sarah has honored horses her whole life as a friend and a companion, and she highlights how intelligent and personal their communications are in her painting "For the Joy."
Also, paintings such as "Saguaro & Friends" of the brush and cacti that a rancher has come to know is also part of the familiar landscape.
This exhibition celebration also includes wildlife paintings and sculpture by a group of the gallery's remarkable artists that share the joys of being a part of the Western landscape.
Raymond Gibby's roadrunner is featured in "Land of Opportunity" which includes the flora and fauna of the Western desert.
A group of avian paintings by Barbara Rudolph adds uplifting delight to working outdoors, as a rancher and a Westerner often gives thanks for all that has been given.
"For the Love of Ranching" would not be complete without Western artists Tobias Sauer, Doyle Hostetler, Michael Trcic, and Dustin Payne, C.A., who know their subjects well. In artwork such as Payne's "Leaving the High Country" focusing on moving a herd to new pasture, Hostetler's "Lincoln Study" which depicts a head-on running bull, kicking up the dust, Trcic's working cowboy on a fence as featured in "Grub Line Rider," and Sauer's charming heifers "Lucy" and "Maddie" all remind us how the ranching life is alive and well in our beloved Western landscape.
No matter if experience comes from someone's back yard or a grand ranch, these artists reveal the spirit it takes to improvise, thrive, and give back to the preservation of a beloved way of life on the ranch lands of the West.
Completing the exhibition celebration are new landscape paintings, wildlife sculpture, festive jewelry, as well as a variety of mixed media fine art by the gallery's award-winning artists.
The gallery welcomes visitors for the reception on First Friday, May 7, from 4-7 p.m. as well as during regular gallery hours (Monday - Thursday, 10 a.m. - 5 p.m., Friday - Sunday, 10 a.m. - 6 p.m.) or by special appointment at the gallery's upstairs location, overlooking the Patio de las Campanas, in the colorful Village of Tlaquepaque.
The artwork can also be viewed on the gallery's website at www.mountaintrailssedona.com, which also includes an interactive Gallery Tour, on Instagram at #mountaintrailssedona, and on Facebook @MTGSedona.
Contact the gallery at 928-282-3225 or fineart@mountaintrailssedona.com.