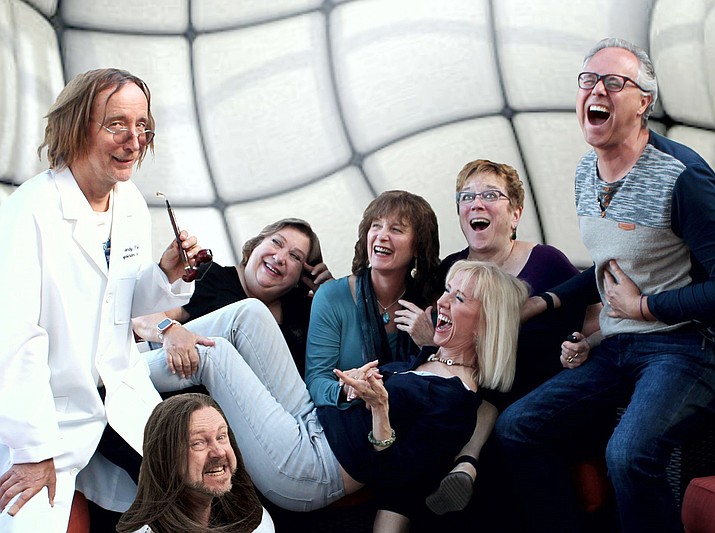 ---
---
After 16 months away from the stage, Zenprov Comedy is fully vaccinated and ready to shoot a mega-dose of hilarity straight to your funny bone with their completely improvised show "Laugh Therapy" Saturday, May 22 at 7:30 p.m.
Due to Covid-19 restrictions at Mary D. Fisher Theatre in Sedona, a maximum of 50 seats will be available. Tickets are $15 each. This show is already half sold out, so make sure to order your tickets early.

While the troupe hasn't performed live for more than a year, they have been practicing — a lot. Besides doing a handful of monthly online comedy shows, they've been studying with professional Second City improv coach Jessica Mitolo in Chicago via Zoom.
"Working with Jessica is one of the bright spots for us this year," said Derek Dujardin, director of Zenprov Comedy. "While we've always done consistently good shows, I felt the troupe had hit a plateau. Jessica helped us get to a whole new level of performance and has given us a host of new games to play. Everyone is extremely grateful for her, and we truly miss our fans. We can't wait to be live again."
For more than a decade now, Zenprov Comedy has tapped into the rich source material that comes from living in a community steeped in spiritual seeking, UFOs, vortexes, self-help gurus, radical vegans and endless roundabouts. While Zenprov Comedy may start in the New Age culture of Sedona, their otherworldly performances are grounded in the fundamentals of rock-solid improv theater, inventive satire, and a constant search for hidden truth in the great Cosmic Giggle.
"Zenprov is the best comedy troupe in Arizona," said Patrick Schweiss, executive director of the Sedona International Film Festival. "People told me they were laughing so hard their cheeks were hurting." 
If you've never been to one of their live performances before, Zenprov Comedy is similar to the popular improvised TV show "Whose Line Is It Anyway?" The troupe performs a mix of fast-paced improvised scenes created in the moment based on audience suggestions as well as Chicago-style, long-form like the "Harold." Unlike sketch or standup comedy, nothing is scripted or prepared ahead of time, so it's never the same show twice.
The super minds of Zenprov Comedy are Derek Dujardin, Shaeri Richards, Shaunn Cochran, Chris Redish, Betty Testa, Linda Roemer and Mary Carder. Tickets are $15, and only 50 seats will be available and less than 20 tickets haven't been sold. Purchase tickets ahead of time at www.zenprovcomedy.com or the Mary D. Fisher Theatre's box office.
The Mary D. Fisher Theater is located across the street from the Harkins Movie Theater on 2030 St. Rt. 89A, next door to BMO Harris. Doors open at 7:20 p.m., and the show starts promptly at 7:30 p.m. and concludes around 9:15 p.m. Beer, wine, and snacks are available in the lobby. Please note: Zenprov shows are rated PG-13, are seldom politically correct, and often contain adult material or themes.