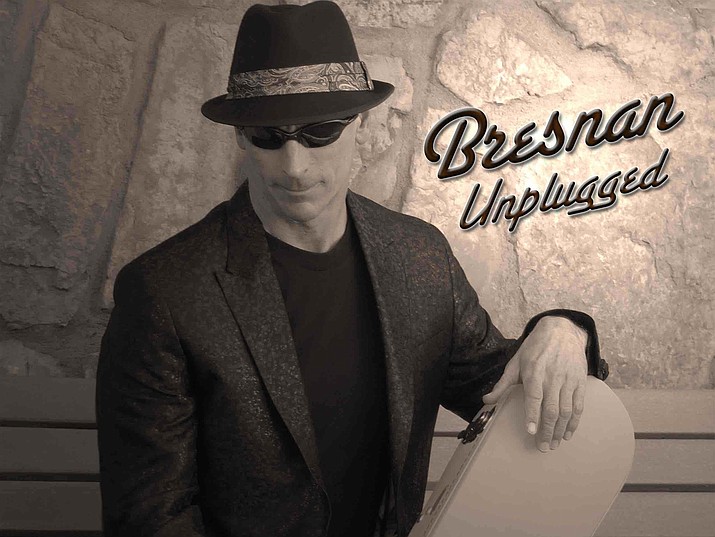 ---
---
Old Town Center for the Arts is scheduled to host the Bresnan Unplugged Ensemble on Saturday, Nov. 6, at 7 p.m., according to a news release.
This encore return of Bresnan Unplugged brings some familiar and new explorations into the jazzy side of the blues, featuring Swing Blues, Big Band tunes, jazz standards, and originals.
For this special event, the Bresnan Unplugged Ensemble will perform two sets of music including songs by artists such as Louis Jordan, Joe Williams, Count Bassie, and Duke Ellington. The ensemble features and is led by Dan Bresnan on vocals and acoustic archtop guitar, with special guests Allen Ames (Violin), Felix Sainz (acoustic upright bass), and Bob Sellani (drums).
"We're thrilled to present this world class group," OTCA Co-Director William Eaton said. "Previous engagements that Dan has brought to us have sold out and the audiences have thoroughly enjoyed themselves. The musicianship expressed by Dan and his guest artists has been fluid and impeccable."

Bresnan (vocals/acoustic guitar) is an international recording artist, guitarist, vocalist, songwriter, as well as a revered luthier (Bresnan Guitars). His well acclaimed Bresnan Blues Band's 2014 debut CD, "Party in My Backseat" has received rave reviews and has been in regular rotation on radio stations across Europe. Bresnan's performance and songwriting style is a fusion of folk rock, Americana, Roots, Blues, Classic Rock, influenced also by 40's and 50's pop standards. Dan is currently a member of A.S.C.A.P., the Guild of American Luthiers, and Chamber Music Sedona.
Allen Ames (violin & acoustic guitar) is known for his recorded works with his own ensemble Lyra, William Eaton Ensemble, and Gypsy jazz groups around Arizona and the Phoenix area.
He has played with orchestras and chamber ensembles including the Arizona Opera and Ballet Orchestras, Nouveau West Chamber Orchestra, the Phoenix String Quartet, and many others.
He has twice performed in the Sedona Chamber Music Festival, and is a regular in the jazz scene in Phoenix. Allen has also appeared with Dave Brubeck in his Fiesta de la Posada Christmas Cantata.
Felix Sainz, Jr. (acoustic bass) is one of the most in-demand performance and session bassists in Arizona, with over 35 years of experience performing in jazz, Latin, and pop ensembles around the state.
Sainz, a resident of Phoenix, is also a recording artist, vocalist, and classical guitarist with his own newly released album, "The Nearness of You." Felix can be heard regularly backing jazz greats in Phoenix, such as Beth Lederman, Diana Lee, Dennis Rowland, Carmela Ramirez, and regular appearances at the nationally famed premier jazz venue in Phoenix, The Nash.
Dr. Bob Sellani (drums), also a guest with this ensemble, is the Founder and current Verde Valley area VP for the Northern Arizona Blues Alliance. He specializes in the blues genre and has competed in the Memphis International Blues Challenge for the last four years and was a semifinalist performer in 2017. Sellani performs regionally with various blues ensembles in Sedona, Verde Valley, Flagstaff, and Phoenix.
Come out and enjoy an evening of fun, friends, and music at OTCA! Come early and enjoy refreshments from a selection of beer, wine, snacks and popcorn.
Tickets for this Bresnan Unplugged performance are $20 in advance, $22 at the door, and $25 for priority seating. Tickets are available online at showtix4u.com in Cottonwood at Desert Dancer; and in Sedona at The Sedona Film Fest Box Office.
Old Town Center for the Arts is located at 633 N. 5th Street (5th Street & Main) in Old Town Cottonwood. For more information please visit OldTownCenter.org or call Elena Bullard at 928-634-0940.
For more information on Bresnan Unplugged, visit BresnanUnplugged.com.
Information provided by the Old Town Center for the Arts.