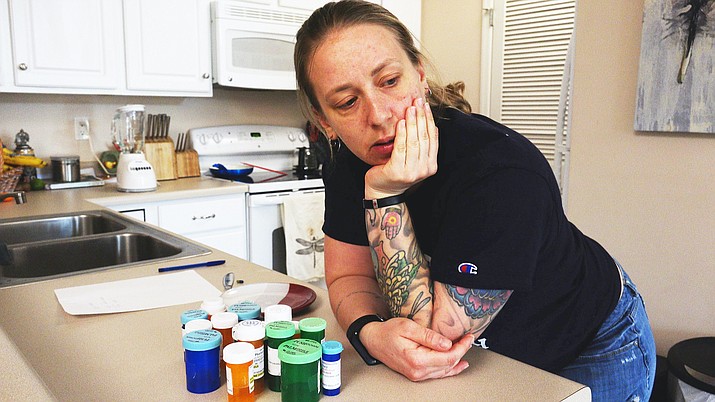 ---
---
Illuminate Film Festival presents the virtual screening of the acclaimed documentary "Medicating Normal," immediately followed by a live virtual panel conversation with the filmmaker, subject and experts from the film, according to a news release.
The event is scheduled for Wednesday, Nov. 3, at 5:30 p.m.
ABOUT THE FILM
Medicating Normal is the untold story of the shocking consequences that can occur when profit-driven medicine intersects with human beings in distress.
The film follows the journeys of a newly married couple, a female combat veteran, a waitress and a teenager who suffer from the psychiatric drugs their doctors prescribed for stress, anxiety, depression, sleeplessness, focus and trauma. While these drugs can provide effective short-term relief, pharmaceutical companies have hidden - from both doctors and patients - their dangerous side effects and long-term harm.
The film offers a thought provoking look at the mental health industry, unveiling a corrupted evidence base and a mental health paradigm in which consumers are often overdiagnosed and overmedicated. Interviews with prominent psychiatrists and scientific experts, paired with real-life accounts, lead us to question whether these powerful meds are really helping or there is a better way.
LIVE PANEL CONVERSATION
The program will include a live post-screening conversation about the realities of America's profit-based mental health system and how a more educated system might holistically heal and empower people living with mental health symptoms.
Panelists include:
Wendy Ractliffe, co-director/producer — Medicating Normal is Wendy's first feature film. Prior to that, she was associate producer for the documentary Beyond Measure by Vicki Abeles. She has been involved in regenerative agriculture and alternative education for two decades. She has a B.A. in History from Yale University and an MBA from Duke University.

Angela Peacock, MSW, former U.S. Army Sergeant, and subject of the film — Angela earned a masters in social work from Washington University in St. Louis and is part of the film's outreach team, facilitating discussion of the film's issues for communities worldwide. She is a mental health advocate, a writer, and a YouTube creator who travels in her campervan across the United States with her service dog, Raider, in an effort to improve the mental health care system and bring voice to patients who have been harmed by it.

Kendra Campbell, MD, holistic psychiatrist — Dr. Campbell is passionate about bringing awareness to the harms caused by medicating the human experience. She founded the non-profit organization Free Range Psychiatry (www.freerangepsych.org) to empower people to heal dis-ease through connecting to their inner wisdom. She also founded the Free Range Fellowship (freerangepsych.org/fellowship) to educate healers about holistic psychiatry and the mind-body connection.
Panelists will address questions submitted by the audience via the online chat. The panel will be moderated by ILLUMINATE Senior Programmer, Maia Monasterios.
"This is a film that can change lives," said Danette Wolpert, executive director of Illuminate Film Festival. "Many of us have personally witnessed a case where meds taken as prescribed have made things worse, not better, and psychiatrists deny it. It takes courageous filmmakers to expose the flaws of big pharma."
Anna Lembke M.D., psychiatrist and faculty member at Stanford University Medical School said, "Medicating Normal dares to challenge prevailing myths about how psychotropic medications work, or fail to, in our ongoing struggle to treat mental illness. It promises to spark a long-overdue national conversation on the growing problem of overprescribing."
Tickets for this premiere online event are $12 at illuminate.eventive.org. After the live event Nov. 3 at 5:30 p.m., a recording of the full program will be available Nov 3-8. Viewers can get access to select screenings, on-demand movies, filmmaker conversations, panel discussions, Reel Healing workshops, and member bonus content year-round for $99.
Information provided by Illuminate Film Festival.