COVID-19 Update: Yavapai County reports 342 new cases this week; more on booster vaccine

Originally Published: September 17, 2021 12:50 p.m.
COTTONWOOD — Yavapai County health officials reported 342 new cases of COVID-19 and eight new deaths since the beginning of the week, according to a news release Friday.
The county has tested 142,000 residents for COVID-19 and there have been 25,174 positive cases and 615 deaths since the beginning of the pandemic.
According to a the Yavapai County Community Health Services dashboard, the Verde Valley Medical Center in Cottonwood reported 16 new COVID-19 patients Friday, Sept. 17, while the Yavapai Regional Medical Center in Prescott reported 40. The Prescott VA has three new COVID-19 patients.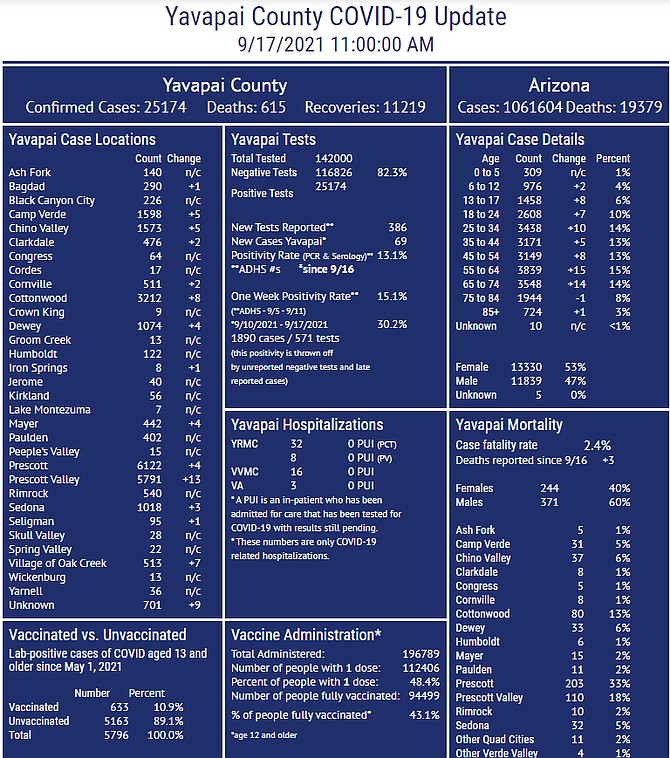 STATE
The Arizona Department of Health Services reported 2,830 additional confirmed COVID-19 cases and 19 more deaths overnight Friday, increasing the state's pandemic totals to 1,061,604 cases and 19,379 deaths.
Virus-related hospitalizations remained over 2,000 for the 18th straight day, with 2,034 virus patients occupying hospital beds as of Thursday, according to the state's coronavirus dashboard.
The average of daily new cases dropped from 3,138.4 on Sept. 1 to 2,754.6 on Wednesday, Sept. 15, while the daily deaths average dropped from 36.5 to 31.3 during the same timeframe.
EXTRA BOOSTER
The independent CDC's Advisory Committee on Immunization Practices (ACIP) continues to meet about a COVID-19 booster shot this fall. Their goal is to discuss date on the evolution of the pandemic and the use of COVID-19 vaccines, then potentially make a recommendation on a booster shot.
"While breakthrough infections among the fully vaccinated have increased, most of those cases aren't severe. The purpose of vaccines, say booster critics, is to prevent hospitalizations and deaths, not cold-like symptoms," YCCHS spokesperson Terri Farneti said. "Scientists have argued that booster shots are not needed at this time for the public. While COVID-19 vaccine effectiveness against mild disease may wane over time, protection against severe disease appears to persist."
President Joe Biden may make a decision any day about offering booster shots to the general public, pending authorization from the FDA.
"The COVID-19 vaccines authorized in the United States continue to be highly effective in reducing risk of severe disease, hospitalization, and death, even against the widely circulating Delta variant," Farneti said. "However, COVID-19 constantly evolves. Experts are looking at all available data to understand how well the vaccines are working, including how new variants, like Delta, affect vaccine effectiveness."
If FDA authorizes and ACIP recommends it, the goal is for people to start receiving a COVID-19 booster shot this fall.
VACCINE APPOINTMENT
COVID-19 vaccine appointments can be made through yavapaiaz.gov/chs, or vaccine.gov. If you are experiencing symptoms of COVID-19 or what seems to be a bad cold, please get tested for COVID-19. For testing sites, visit yavapaiaz.gov/Portals/39/COVID-19/TestingSitesinYavapaiCounty.pdf.
The Associated Press and YCCHS contributed to this article.
Follow Brian M. Bergner Jr. on Twitter, Facebook, Instagram and SoundCloud at @52MediaWorks. Email him at bbergner@verdenews.com, or call 928-634-2241, ext. 6033.
SUBMIT FEEDBACK
Click Below to: