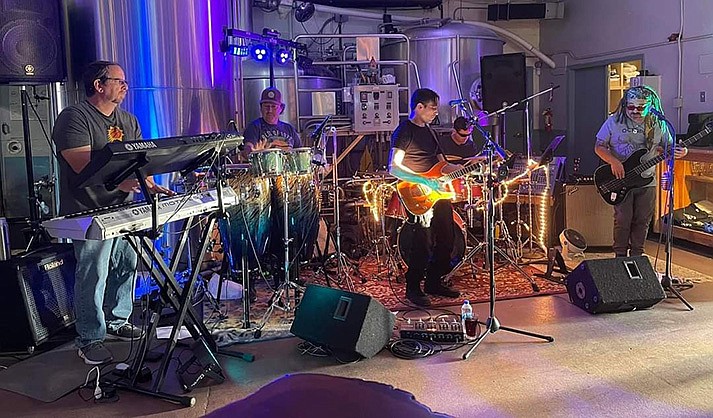 ---
---
Friday, Aug. 5, Resident DJ, ill.Ego returns for First Friday with Special Guest DJ Provisions. These two bring a perfect blend of Old School and New School, Playing your favorites in Funk, Disco, Pop, Hip Hop, EDM, Top 40 and so much more. Bring a friend and hit the dancefloor with the best drink specials in town.
Saturday, Aug. 6, brings the debut of reggae band Local Honey.
Local Honey is based out of Cottonwood. Doc Glendenning (guitar, lead vocals), Phil Gornick (keys), Jason Teague (bass, back up vocals), Caleb Wright (drums, back up vocals) and Tory Campbell (percussion) have been playing music in the Verde Valley for years in the bands Keith Okie and Rebel Sol, Flash Molasses, Dulce Vita and The Fey (among others).
Local Honey lays down a mixture of original and surprising cover tunes, all done in a Reggae style with a dash of funk, R&B and jam rock.
Main Stage provides nightly entertainment almost every night of the week. Mondays kick off with karaoke hosted by Christa Cave at 9 p.m.
Karaoke continues on Tuesdays at 9 p.m., this time hosted by Sean "Shizzy" McAfee.
Wednesdays with "This Ain't Your Grandma's Bingo" with hostesses, Christine "Bean" Kramer and Rebecca Riffel. Attendees play for cash and prizes starting at 7 p.m., with 10% of proceeds of every pot going to local charities, nonprofit organizations, or local families in need.
Thursday Happy Hour comes accompanied with Live Music 2-6 p.m. Thursdays nights bring Smarty Pants Trivia at 7 p.m. with Chris Baker and Cheri Baker. Cash prize for the winner. Bring Your Own Vinyl Night starts at 10 p.m. with DJ Baker Breaker.
Fridays, it's TGIF Karaoke, hosted by Jesse Petterson.
Main Stage is located at 1 S. Main St. in Cottonwood and is open Monday through Saturday from 11 a.m. to close, and closed on Sundays. All events are free to the public unless otherwise specified.