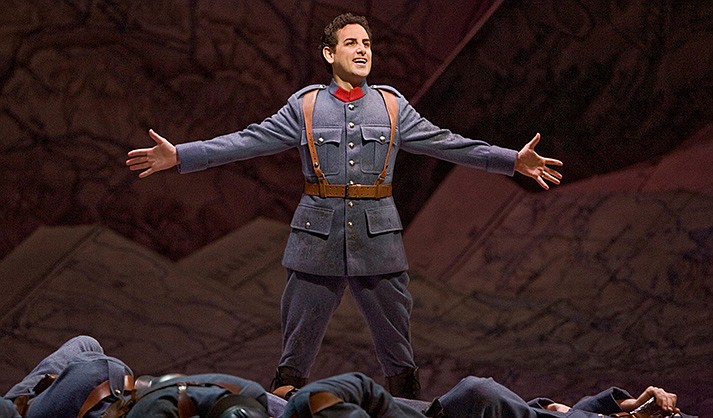 ---
---
The Sedona International Film Festival is proud to present the summer encore of the Met Opera's "La Fille du Régiment" (from the 2007/2008 season) on Saturday, Aug. 13, at 1 p.m. at the Mary D. Fisher Theatre. 
Madcap physical comedy and impeccable coloratura come together in soprano Natalie Dessay's indelible portrayal of the feisty tomboy raised by a regiment of French soldiers. Tenor Juan Diego Flórez is the young Swiss villager who conquers her heart—and a slew of high Cs. Also featuring uproarious performances by mezzo-soprano Felicity Palmer and baritone Alessandro Corbelli, as well as a cameo by Tony Award–winner Marian Seldes, the performance left audiences exhilarated by this laugh-out-loud production.
Act I
Marie, the "daughter" of the 21st regiment of the French army, is in love with Tonio, a Tyrolean. Tonio loves her as well, but Marie has promised to marry only a soldier from the 21st. When the Marquise of Berkenfield, traveling through the area, learns from the sergeant Sulpice how Marie was found as an orphan, she claims her as her niece and resolves to take the girl to her castle. Tonio has enlisted so that he can marry Marie, but she has to leave both him and her regiment.
Act II
The marquise has arranged for Marie to marry the Duke of Krakenthorp. Unhappy with her new life at the castle, Marie is delighted when the whole regiment marches in. Tonio asks for her hand, but the marquise dismisses him. Alone with Sulpice, the marquise confesses the truth: Marie is her illegitimate daughter whom she had abandoned. When Sulpice tells Marie, she declares that she cannot go against her mother's wishes. As she is about to sign the marriage contract, the regiment, led by Tonio, storms in to rescue her. Marie describes her upbringing to the shocked guests and explains that she can never repay the debt that she owes the soldiers. The marquise is so moved that she gives her daughter permission to marry Tonio.
"La Fille du Régiment" from the Metropolitan Opera will be shown at the Mary D. Fisher Theatre on Saturday, Aug. 13 at 1 p.m. Tickets are $15, or $12.50 for Film Festival members. Tickets are available in advance at the Sedona International Film Festival office or by calling 928-282-1177. Both the theatre and film festival office are located at 2030 W. Hwy. 89A, in West Sedona. For more information and to order tickets online, visit SedonaFilmFestival.org.