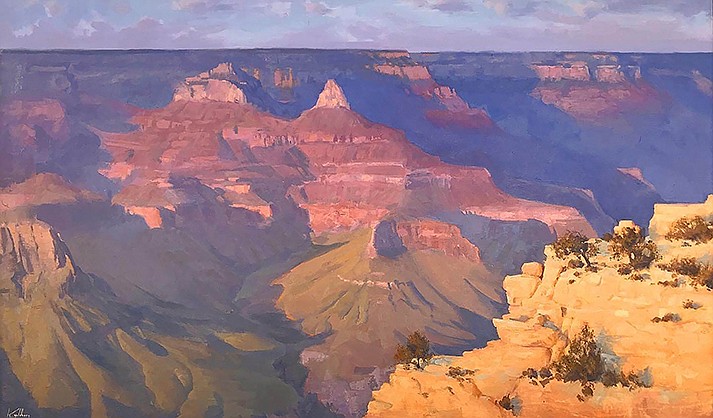 ---
---
The Yavapai College Prescott Art Gallery will exhibit paintings by 13 regional artists in an exciting pre-event to the 3rd Annual Prescott Plein Air Art Festival.
The exhibition will run from Aug. 11 to Sept. 30 ending just before the art festival's opening on Oct. 13.
The artists will show and sell works painted throughout the region in the lead-up to the Prescott Plein Air Art Festival, following the long tradition of painting "in the open air" and offering the public an opportunity to view and purchase world-class art depicting iconic Southwestern landscapes.
Featured artists include Cindy Carrillo, Betty Carr, Casey Cheuvront, Dane Chinnock, Tim Clark, Kadin Goldberg, Russell Johnson, Cathy Krieger, Gretchen Lopez, Anton Nowels, Dawn Sutherland, Eric Slayton, and Matt Sterbenz.
An opening reception will be held at the gallery during the Fourth Friday Art Walk on Aug. 26 from 5 to 7:30 p.m.
A cash bar and hors d'oeuvres will be available at the reception.
Russell Johnson will give an Artist Talk in the gallery on Sept. 7, 6-7 p.m.
All events are free and open to the public.
For more information about the 3rd Annual Prescott Plein Air Art Festival, presented by the Highlands Center for Natural History and the City of Prescott in partnership with the Prescott National Forest and Touchmark at the Ranch, go to highlandscenter.org/prescott-plein-air.