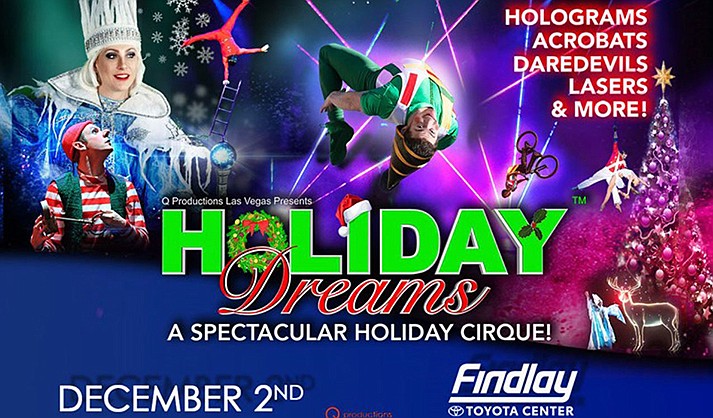 ---
---
Order your tickets now.
This ground-breaking holiday show incorporates acrobats, aerialists, comedians, daredevils and award-winning specialty acts performing incredible feats using the latest in visual and technological "magic" such as holograms, projection mapping and interactive lasers. Created with the mission that it must appeal to children and grown-ups alike, the show is a tour-de-force that includes music, dance, comedy and a lovable and funny story—all wrapped-up in a Holiday theme.
Holiday Dreams, A Spectacular Holiday Cirque! was created with a loving belief that people can come together and experience the magic of the Holidays in a fun, exciting and technologically advanced show for the whole family. Creator, Producer and Director, Fernando Quevedo grew up in a circus. "I remember being very young, growing up in Europe and watching my father perform in an amazing circus and it was magical! The artists came from all over the world and performed incredible acts that mixed entertainment as well as daring routines. When I came to America shortly after, I was inspired by the grandiosity and lavishness of Vegas shows. They were amazing! The only problem was that they were all shows made for adults. I couldn't go see my father perform! My father would say, "Well, create a show and hire me and let all the kids in!" He was of course joking but that stuck in my twelve-year-old mind. Why not create a show with all the incredible elements of 'grown-up' shows but made for the whole family?" That's when Holiday Dreams was born.
Since then, Holiday Dreams, A Spectacular Holiday Cirque! has been labeled as the most amazing holiday show in the scene. By incorporating the most amazing cirque performers, award-winning specialty acts, side-splitting comedy along with holograms, projection mapping and lasers, Holiday Dreams is truly a show that amazes audiences of all ages!
Findlay Toyota Center Event Insiders get the opportunity to pick the best seats before they go on sale to the public. The Event Insider presale started on Thursday, July 28, however, tickets are still available. You can become an Event Insider today by signing up on the Findlay Toyota Center website at findlaytoyotacenter.com/event-insider.
Tickets on sale at the arena box office and on Ticketmaster.com