Trails Field Season 2022-23 plans include enhancing, maintaining
By the Sedona Red Rock Trail Fund
Originally Published: December 1, 2022 12:30 a.m.
As we discussed last month, the Red Rock Ranger District (RRRD) contains more than 400 miles of non-motorized trails with over 300 of those miles in close proximity to the city of Sedona and the Village of Oak Creek.
This field work season, with funding help from the Sedona Red Rock Trail Fund (SRRTF), the Forest Service was able to hire 16 seasonal workers – 12 on the non-motorized trail crew. These crews augmented with volunteers, youth crews and rock artisans will work over the next four to five months maintaining and enhancing our trails.
With more than 3 million visitors on theses trails annually, the trail crew's work is vital to the recreational experience of all the different trail users.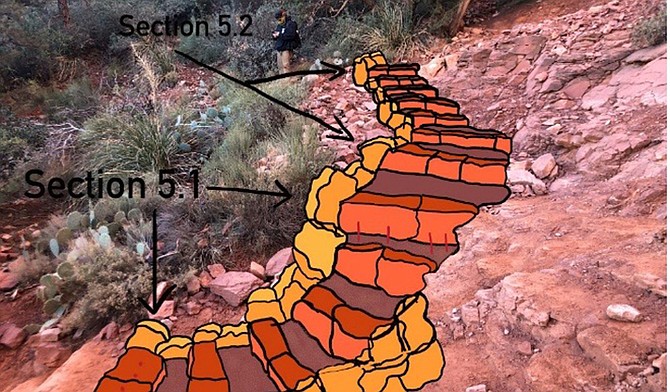 Volunteer Workdays
The RRRD holds volunteer workdays on select Thursdays and Saturday mornings during the field season. These workdays are an opportunity to make new friends, give back, and share in camaraderie. Après workday refreshments are provided by generous local business and non-profit sponsors. Workdays start at 8:30 a.m., finish a little after noon and you can join in the fun on…
Dec. 3 at the Mescal Trailhead
Dec. 10 at the Girdner Trailhead by the Cultural Center
Dec. 15 at the Girdner Trailhead
Trail Enhancements
In addition to maintaining 250-300 miles of non-motorized trails this season, the non-motorized trail crew will be finishing up the rock work on the Upper Cathedral Rock Trail. The Trail Crew, augmented by rock artisans under contract with the SRRTF and youth conservation corps funded through Great Americans Outdoor Act funding, will be working on this project between December and March 2023.
During December, equipment and materials will be hauled to the work sites by hand along with basic tools of pickaxes and shovels in preparation for work to begin in the new year. Rock will again be harvested on site, to be cut and shaped by hand. The work will involve 350' of rock work, 1,400' of fencing, social trail closure and restoration as well as new signage and cairn installation. Reconstruction involves specific engineering considerations for water flow, along with tread and rise that suit hikers.
Other SRRTF Funded Projects
This Season

Comprehensive Trail Assessment – you may have run into a team assessing the trails this fall. With the heavy monsoon season this past two summers that carried over into the fall this year our trails have suffered. The SRRTF contracted with Flagline Trails, LLC to conduct a comprehensive field assessment and develop recommendations for future maintenance for the heaviest used trails (~200 miles) near Sedona and the Village of Oak Creek. This work will produce a comprehensive 3-4 year plan that the RRRD will use as a key tool used to plan out the work.
Red Rock Trail Census Project – this unique and strategic project will count users and collect information about current trail usage in the RRRD. Recognizing that trail usage has changed over time, RRRD seeks to identify current variations through specific data collection and understand the impact of current trends so to better address and serve the needs created by these changes.
The project will provide Forest Service managers and partners with improved data about trails that can be used in future budgeting, staffing, grant seeking, enhanced public service, and more targeted maintenance. Information from this project will contribute to the development of an improved Trail Maintenance Plan for the RRRD. The project was initiated through a Forest Service request of the SRRTF to assist in funding/organizing a project to update non-motorized trail metrics.
RRRD Archaeologic Survey for Red Rock Ranger District – The Forest Service seeks to improve the non-motorized trail system within the RRRD. Prior to making certain improvements in specific areas, archaeological surveys much be conducted in compliance with the National Environmental Protection Act. The SRRTF released a request for quotation in late October to physical survey almost 1,900 acres for six proposed projects near Sedona and the Village of Oak Creek. Field work is scheduled to begin in the new year.
To learn about these and other projects the SRRTF is working on, please visit their website at RedRockTrailFund.org.
-
SUBMIT FEEDBACK
Click Below to: