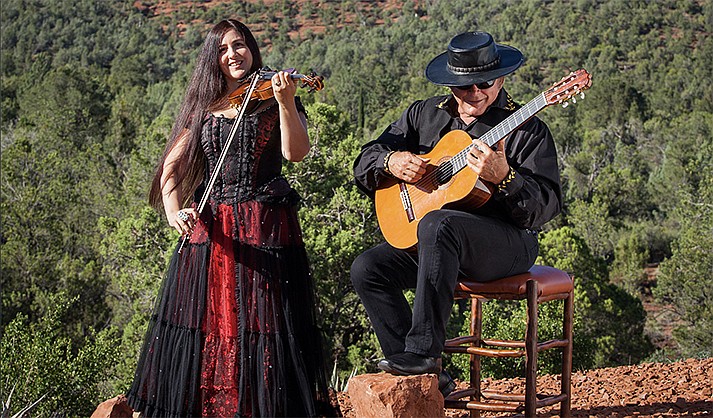 ---
---
Sound Bites Grill in Uptown Sedona prides itself in bringing some of the best acts to their Celebrity Showroom Stage.
This weekend it will be national recording artist Lisa Mitts performing on Friday, Dec. 16, from 6 to 9 p.m., and Esteban performing his Holiday Special show from 7 to 9 p.m.
Mitts is an ASCAP registered recording artist, singer/songwriter, pianist, and performer who received the 2022 Winter World Music Award for Best Music Video (Fly Away); the 2021 Intercontinental Music Award (ICMA) for Best of North America in Contemporary Christian; and the 2021 Red Carpet Awards in Holland for Best of USA Artist of the Year.
She has recorded and written with R&B artist, Allen Stone, Seattle producer/artist Brandon Bee, as well, and in Franklin, Tennessee, at the Castle Studios with renowned Nashville musicians such as Gordon Mote and Chip Davis. 
Her music ranges in genres from pop to country, classic rock, singer/songwriter and contemporary Christian to jazz and piano instrumental.
She also was awarded Album of The Year (Gold) at the 2020 ISSA Music Awards, as Female Songwriter of the Year at the 2019 ISSA Awards. 
She is a consummate and animated performer that gives it her all when she performs. She commands the stage with grace and poise.
World renown Flamenco guitarist Esteban brings professionalism and virtuosity to any stage he graces. 
He is considered one of the most talented Flamenco guitarists in the world. He is a living legend for classical guitar music aficionados, having played and toured all over the globe.
A common household name in the realm of music there are few who haven't heard of him and now he is here in Sedona where we can watch him play up-close and personal on one of the finest stages in Northern Arizona.
He will be performing with his violinist daughter Theresa Joy, a master violinist; and backed by a four-piece band. Together they weave a beautiful tapestry of instrumental classics that take you on a musical trip through some of the most beautiful songs ever written.
Watching him and his band play is a hypnotic experience as he journeys through the musical world of classical guitar-themed music.
He keeps the audience enthralled with anecdotes of each of the pieces he pays and history about himself and his musical journey.
Esteban began playing the guitar at the age of ten and studied under famed classical guitarist Andres Segovia.
A true prodigy, it wasn't long before he made a name for himself in the classical guitar world.
Through the years he just keeps getting better and better as he further masters the instrument he plays so well.
He has recorded and sold numerous albums and has played major venues all over the world.
Enjoy this Holiday Special performance with Esteban and his daughter and get into the mood of Holiday fun and joy at Sound bites Grill.  
Sound Bites Grill is located at the Shops at Piñon Point adjacent to the Hyatt in Sedona. For more information please visit SoundBitesGrill.com or call 928-282-2713. Tickets can be purchased via website.