Assessing trails one step at a time ... for 200 miles
Linda Pallas and Dick Williams, Sedona Red Rock Trail Fund
Originally Published: July 1, 2022 12:35 a.m.
The Sedona Red Rock Trail Fund is contracting with Flagline Trails LLC, Flagstaff, to carry out a Comprehensive Trail Assessment for over 200 miles of the 400 miles of trails in Red Rock Trail System.
The Trail Assessment is being conducted to evaluate current conditions of our high-impact trails, and provide constructive information that will be used by the Red Rock Forest District (RRRD) to develop a comprehensive and sustainable three- to four-year program of trail maintenance.
In recent years, Red Rock Country has seen more dramatic weather conditions affecting our trails. Since March 2020, the non-motorized trails on National Forest land surrounding Sedona and VOC have been pummeled by challenging events – plague, drought, fire and flood. Drought created extreme dry conditions making soils more vulnerable to substantial damage caused by heavy monsoon rains and devastating flash floods.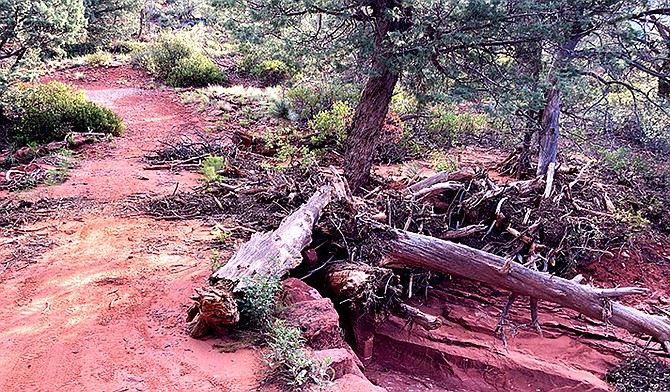 The Red Rock Ranger District (RRRD) is moving toward a more strategic and forward-planning program of maintenance for trails in the district. Previously, uncertain Federal allocations, inadequate budgets, staff turnover, and capacity created a situation where Forest Service trail managers typically conducted trail maintenance on a reactive and intermittent basis. With the current level and consistency of support from the Sedona Red Rock Trail Fund, the RRRD can be more proactive.
The Red Rock Ranger District plans to use information provided by the Trail Assessment to develop a 3-4-Year Maintenance Plan prescribing routine and emergency trail maintenance, timing and budgeting. It will also identify unsustainable trail segments and damaging social routes that need to be addressed, ensuring the area is protected for future use and that each user's experience is a pleasant one.
To date, approximately 67 miles of trails have been surveyed and the data compilation and analytical phase is beginning. Each trail or trail system will get its own condition assessment.   There are some interesting trends emerging that will be used in future design considerations. 
So, if you see a bearded hiker pushing an orange wheel seemingly talking to himself, do not be alarmed! He is Matt Roberts, owner of Flagline Trails, and he is doing the field work for our Trail Assessment Project. 
The Trail Assessment is currently on hold during the heat of the summer, and we will keep you posted as the project progresses in the fall!
Comprehensive Trail Assessment and the resulting 3-4-Year Maintenance Plan
Will include these specific activities:
• Assessment of trail conditions
• Documentation of specific needs
• Development of appropriate plans, including timing and budgeting
• Assurance of sustainability
SUBMIT FEEDBACK
Click Below to: