A lesson in wildfire emergency response
By Gwen Hanna Chair, BPRCC EPPiC Committee
Originally Published: July 1, 2022 1 a.m.
This article from the Emergency Preparedness Planning Committee (EPPiC) of the Big Park Council (BPRCC) features the U.S. Forest Service (USFS). Please refer to the article on the Sedona Fire District (SFD), also featured in this month's Villager, to understand how the two organizations work together in a wildfire emergency.
Four members of the Red Rock Ranger District – Amy Tinderholt, district ranger, Brian Steinhardt, fire management officer, Alex Schlueter, assistant district ranger, and Steven Vankirk, assistant fire manager -- accepted our invitation to the June EPPiC meeting to speak about their role in our community, and to answer our burning (bad pun intended) questions.
What we discovered was the wide range of acreage covered by the Red Rock Ranger District; approximately 550,000 acres extending from the Mogollon Rim to the Verde River. Their primary responsibility—to protect the resources within the National Forest, and at the top of the list—wildland fire response.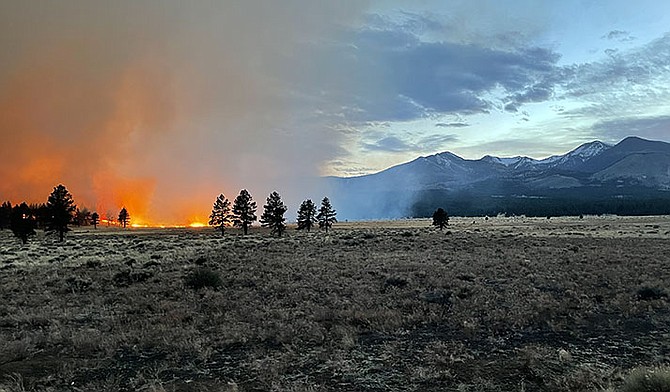 As with all the frontline agencies we've met thus far, we were again impressed with the level of experience and professionalism, including the unsolicited reaffirmation and reassurance for the respect these agencies have for each other, and for the close level of communication and cooperation amongst them.
Since the VOC is a developed area that borders a national forest, and with the Sedona Fire District boundaries overlapping the Forest Service, the fire emergency response between these two agencies is shared within a unified command structure and includes an Incident Management Team (IMT) with an assigned liaison officer that works with all the agencies and jurisdictions involved during an active fire.

Brian Steinhardt, fire management officer, did, however, make a clear distinction with respect to expertise and responsibilities. The Forest Service has vast knowledge and training in wildland fires, and often get called for assistance even on fires that are not within the Forest Service boundary.
However, the USFS cannot enter structures, they can only engage/assist the Fire District by taking protective action to keep the fire away from a structure and protect the perimeter. They pass on the responsibility of structural firefighting to the SFD who are equipped and trained experts in this area.
Firefighting equipment, including fire engines are always on site at the Ranger Station and depending on the severity of an incident, additional resources are available within 1-24 hours, with air support coming from Prescott, Payson and regionally.

Brian Steinhardt also spoke to the specifics of our community. The Village is a unique environment, and although surrounded by forest land, often our fire danger may likely come from a neighbor.
With severe drought conditions, fire patterns have begun to change. Pine/juniper beetles are weakening and killing trees and the open spaces created by healthy juniper root systems are shrinking. Grasses are beginning to grow more invasively, allowing fire to spread more quickly and completely.

He encouraged residents to be Firewise around their properties and offered the assistance of the Forest Service to join with the SFD to evaluate individual properties and communities as a whole. He advised us to keep gutters and roofs clear of pine needles and debris as this will prevent a fire starting at home from an airborne ember. Likewise maintaining vent screens will keep embers from entering the house.

He reiterated the advice to subscribe to Code Red, always be "READY" and consider evacuating at "SET" instead of waiting for the "GO" order.
When asked what single advice he would give our community, Brian responded without hesitation, "don't believe it can't happen here."
Raising our situational awareness, being proactive stewards in preserving our environment, and being at the "ready" as residents, seems to be some of the best ways we can each do our part in preventing/preparing for an emergency.

---
SUBMIT FEEDBACK
Click Below to: