Oil painter Valerieann Giovanni featured Artist in July
Originally Published: July 1, 2022 12:10 a.m.
The Village Gallery of Local Artists is pleased to feature the work of Valerieann Giovanni during the month of July, 2022. A reception will be held on Friday, July 1, from 5-8 p.m.
Valerieann Giovanni has been a professional artist for over 40 years, with 25 of those years teaching others how to paint, author, Reiki Master, and mother of 6. She is a self-taught artist with many awards, who dedicated many years to mastering realism before developing her own style.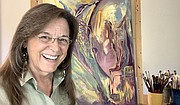 Giovanni's present work depicts emotion and the energetic vibrational flow that comes from them. She uses oil paints mixed with essential oils, which are safe to smell, harmless to touch, have a pleasant aroma, and add a superior degree of control than traditional turpentine or mineral spirits.
Giovanni's original oil paintings can be found at the Village Gallery along with "Magical Journey" card decks that she developed. With 55 cards of original paintings, 55 word cards, 12 number cards and an instruction book, Giovanni says you can "engage with and gain awareness of subtle energies at work in life, and learn to play with the mysterious 90% of the mind rarely used."
The public is invited to come to the reception on July 1st and meet Valerieann Giovanni, see her paintings and ask her about her magical painting journey. The Village Gallery is located at 6512 State Route 179 in the Village of Oak Creek. They are open 7 days a week and take applications for new membership. For more information, stop by the gallery, call (928) 284-1416, or visit the website at edonalocalartists.com.
---
SUBMIT FEEDBACK
Click Below to: